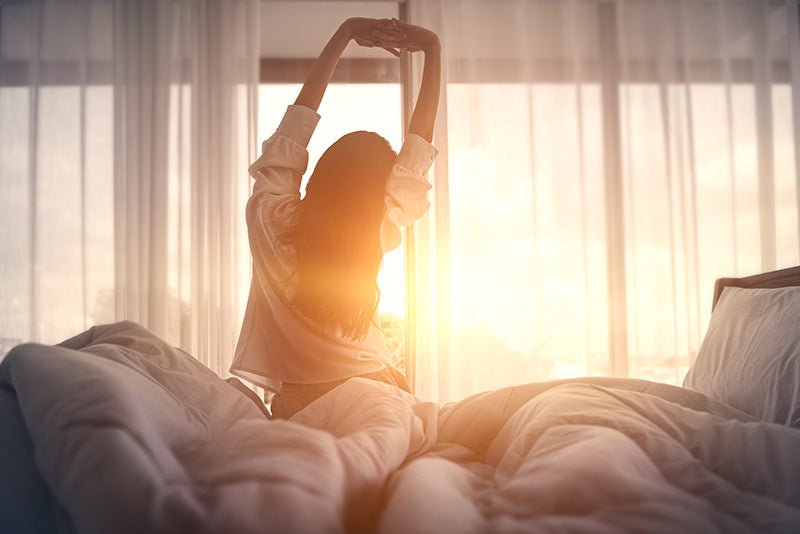 Body pillows offer the ultimate in sleep comfort, encouraging a restful sleep while achieving the perfect neutral alignment for your spine. At Pillow Science, we pride ourselves on our ability to provide the best in sleep technology and buying one of our body pillows online will be the best sleep decision you have made in a long time. Though the use of body pillows is most commonly associated with pregnancy, body pillows are actually recommended by health professionals to relieve symptoms of back and neck tensions in people of all ages which can be caused by an unhealthy sleeping position.
Get a better night's sleep with a body pillow from Pillow Science 
If you find yourself restless at night or you are experiencing back or neck pains when you wake, then it might be time to try one of our body pillows in combination with our orthopedic neck pillows for a better night's sleep. Body pillows are designed for additional comfort when you sleep by providing the kind of support you need to keep your back and neck in their most restful states. Hugging a body pillow is recommended to relieve back pain, neck pain, and even anxiety while you sleep, resulting in a better night's rest without any additional pressure on your body. 
The right level of pillows for the perfect night's sleep 
At Pillow Science, we pride ourselves on offering the widest range of pillows for all sleep styles. Our collection of body pillows online gives you the best choices for the perfect night's sleep and combined with the right neck pillow, you will never have experienced comfort like this before. From high pillows to low, soft pillows to firm, there is sure to be a pillow in our range that is the perfect complement to your new body pillow. Though body pillows are mainly associated with use by pregnant women, they can be extremely helpful for a range of muscular conditions in relieving tension and eliminating pain by correcting your body's natural curves. 
Using body pillows for pregnancy 
As your body changes during pregnancy, additional pressure can be placed on the back, hips and legs causing undue aches and pains. The use of a body pillow in conjunction with our specialty range of pregnancy pillows helps to alleviate these unwanted tensions by providing additional support and comfort during sleep for a better night's rest. Careful positioning of a soft body pillow during sleep helps to take the additional weight off your back and hips which can cause muscle tension in the daytime, while removing pressure caused by pregnant bellies to keep you comfortable – especially during the final trimester. Buy your body pillow online for the best pregnancy sleep companion in the market.  
The importance of maintaining a neutral spine while you sleep 
The healthiest sleeping position is one in which your neck and spine are fully supported, minimising any muscular tension. At Pillow Science, we understand that every person sleeps differently, which is why in addition to our collection of body pillows, we also offer a wide range of pillows to support your neutral spine. Our specialty pillows are designed for all sleep positions including back sleepers, side sleepers, and tummy sleepers to ensure that you are supported no matter which way you turn when you sleep. 
Buy your body pillow online today 
Buying the best body pillow for you is only a few simple clicks away. Choose from our range of body pillows online, select the one that works for you and we will have it in the post for you by the very next day. Your pillow delivery will be tracked through Australia Post's eParcel delivery system every step of the way so you will know as soon as it's in the mail how far away your delivery will be. For the best body pillow to get a better night's sleep, look no further than Pillow Science. 
FAQs 
Are body pillows good for you?
Body pillows offer support for your neck and back in addition to the general support you get from your mattress. Using a body pillow is a great support to reduce the chances of sleep strain by keeping your muscles in proper alignment. Body pillows are especially recommended for people who suffer from back problems as hugging the pillow during the night will reduce your desire to twist while you sleep.
Is it bad to have a body pillow?
No, it is not bad to have a body pillow. There is no scientific evidence to suggest that the use of body pillows is detrimental to sleep patterns or muscular tension in any way. Body pillows have been used to assist with many problems that cause irritation during sleep or interrupted sleep, to encourage a better night's rest.
What's the purpose of a body pillow?
Our range of body pillows are used by different people for different reasons, some use them to relieve back and neck pain by keeping the spine in alignment while they sleep, while others use the hugging of body pillows to prevent them from turning onto their back, thus helping train themselves to sleep on their side.
Do body pillows help with anxiety?
In addition to helping relieve physical tensions while you sleep, hugging a body pillow can also have a calming effect on your mental state. Hugging a body pillow encourages the release of oxytocin in your brain, which helps to radiate a feeling of calm and ease throughout your body which has been known to relax you as you fall asleep and can even lower your blood pressure. Mental health professionals suggest that hugging a body pillow while you sleep increases your comfort levels, which can help in relieving anxiety as well as making you feel safe and comforted as you rest.
How do you hug a body pillow?
Hugging a body pillow helps to maintain neutral alignment for your spine which is best achieved if you are laying on your side. The pillow should be placed lengthways along your body and used in between your knees to achieve the most comfortable position. Try to avoid throwing your entire leg over the pillow as this can sometimes cause back pain. Once you have achieved the most comfortable leg position, your free arm can be placed over or around the pillow in a hug formation to relieve pressure from your shoulders as you sleep.
Filters