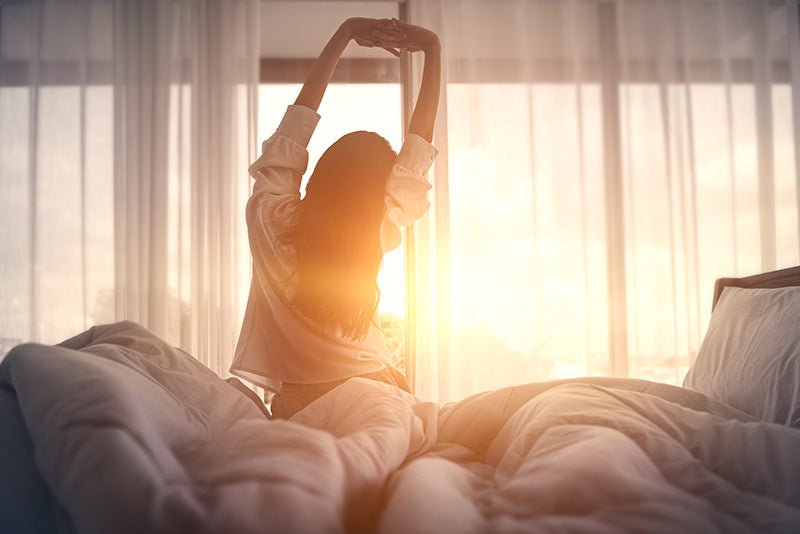 Our new range of eco-friendly bamboo pillows is ideal for those with neck problems, allergy sufferers or anyone wanting a better night's sleep. Each pillow is covered with a delightfully soft bamboo fibre casing that provides a natural, soothing sleep surface. It is made from high-quality memory foam that contours to your body — offering spine-cradling support where you need it most. 
From gel-infused bamboo contour pillows engineered to promote optimal sleep posture to specialist bamboo pillows to help children aged 3-10 drift off into a comfortable slumber, our range is available in a variety of shapes and sizes to suit almost everyone. Whether you sleep on your side, back or tummy, we're sure you'll find a bamboo memory foam pillow that's just right for you.
Wake up refreshed and ready to take on the day with bamboo contour pillows
If you're looking for a long-lasting pillow with unparalleled comfort and support and eco-friendly credentials, a bamboo memory foam pillow is perfect. They offer several unique benefits that make them a worthy addition to any bedroom set-up: 
Extremely durable

— Not only are

bamboo pillows

known for their incredible softness, but bamboo retains its shape better than down or synthetic materials. Plus, the high-quality memory foam filling conforms to your head and neck, distributing the weight evenly without losing its structure.



Naturally hypoallergenic

— Bamboo helps eliminate dust mites and is also antimicrobial, preventing the build-up of bacteria causing allergies. This makes

bamboo pillows

the perfect choice for those suffering from asthma, lung problems, allergies and even snoring.

A sustainable resource

— Bamboo is grass that regenerates quickly. It doesn't require pesticides or fertilisers, making it a more environmentally friendly choice than pillows made from cotton or other materials. So, you can rest easy knowing that your pillow is good for the environment.
For complete tranquillity and comfort, shop our range of bamboo pillows in Australia 
At Pillow Science, we're dedicated to improving our customers' quality of life by providing mattresses, pillows and quilts that promote healthy, restful sleep. Whether you prefer firm, medium, or soft pillows, our top-quality bamboo memory foam pillows are designed to offer ultimate support and comfort. Shop leading brands like Somna Medica, Flexi Pillow, and Kelly and Windsor today and take advantage of our bamboo pillows in Australia with our quick Australia-wide delivery and low flat rate shipping (free over $150!) for your best night's sleep yet.
FAQs
What is the advantage of a bamboo pillow?
Bamboo is an excellent alternative to other pillow materials because it is hypoallergenic, dust mite resistant and has antibacterial properties, which makes it ideal for those with allergies or asthma. Not only is bamboo naturally resistant to mould and mildew, but it's temperature-regulating and wicks away moisture, making it great for use in all seasons. Another benefit is that bamboo pillows are machine washable and dryable and do not need to be fluffed frequently like other pillow types. 
Do bamboo pillows go flat?
Eventually, yes — but bamboo pillows retain their form better than other materials. The internal memory foam contours to the body, and a layer of tightly-woven fabric prevents it from clumping together or shifting. As long as you follow the care instructions, your bamboo pillow should provide years of support.
Should I put a pillowcase on my bamboo pillow?
We always recommend using a pillowcase and pillow protector for hygienic reasons — to help protect your bamboo pillow from dirt, oil and sweat, and to keep it clean and fresh. The added layer of fabric also helps to reduce wear and tear which increases the longevity of the pillow, so you can continue to enjoy the benefits night after night. 
Can you wash a bamboo pillow?
Most bamboo pillowcases can be washed in the washing machine using cool water and a gentle cycle. It's important not to use hot water or bleach, as this can damage the fabric. To hand-wash your bamboo pillowcase, fill a sink or tub with cool water and add a mild detergent. Gently agitate the fabric to work the soap into the fabric, then rinse thoroughly with cool water. Allow the pillowcase to air dry completely before using it again.
How do you refresh a bamboo pillow?
Anyone who has ever owned a bamboo pillow can attest that they are extremely comfortable and significantly cooler than traditional pillows. To help keep your bamboo pillow looking and feeling fresh night after night, it's worth investing in a machine-washable waterproof pillow protector. This handy extra layer will protect the pillow from becoming stained or marked — increasing its longevity.

Filters
Save $50.00
Save $50.00
Save $13.90
Save $12.90
Sold out
On sale
Save $5.90
Save $50.00
Save $50.00
Sold out
Save $13.90
On sale
On sale