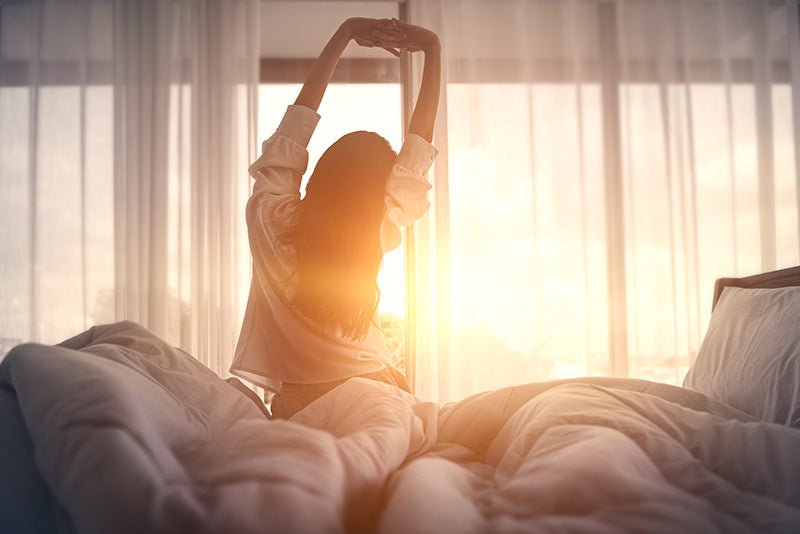 Our gel cooling pillows are ideal for hot sleepers, perfect for the coolest comfort and exceptional pressure relief. Do you find yourself heating up and uncomfortable while sleeping? Get cool with our gel pillows!
At Mattress & Pillow Science, our fantastic cooling gel pillows combine the comfort and support of pressure-relieving visco-elastic memory foam with a top layer of gel, providing excellent pressure relief that cools even the hottest sleeper.
The cool solution for hot sleepers
Our gel pillows come in both contour and classic shapes. Our Gel Contour pillow is ideal for side sleepers and has an additional foam pad for height adjustment. If you're a back, side or tummy sleeper, you can't miss our classic high-density moulded memory foam gel pillows. 
How do they work?
Our gel-infused pillows have a hydrogel pad on top of the visco-elastic to cool the body temperature and relieve hot sleepers. The higher the density of memory foam, the slower it responds to pressure and takes longer to return to its original shape once the pressure has been removed. The lower the density, the quicker it is to respond to pressure and return to its original shape. The advantage of visco-elastic pillows is that they gently mould your shape and help you quickly and comfortably achieve a neutral spinal alignment.
Shop gel pillows from Mattress & Pillow Science today 
If you're on the market for the best bamboo gel pillow to help prevent night sweats and maximise your sleep, look no further than Mattress & Pillow Science. At Mattress & Pillow Science, we do the research so you can do the rest. We pride ourselves on improving our customers' quality of life through improved sleep by working with them to find the perfect mattress, pillow and sleep solution to suit their needs. 
We offer quick Australia-wide delivery with a same-day dispatch on most of our products. Enjoy our low rates for shipping, or even get free shipping for purchases over $150! If you're unsure if our gel pillows are the right fit for you, explore our entire collection of pillows, including firm, medium, soft and Flexi pillows.
At Mattress & Pillow Science, we've partnered with Australia's most reputable brands to provide our customers with the best sleeping solutions. Discover Australian-made Somna Medica pillows for a high degree of neck support. From Bambi to Dentons, Downia, Kelly and Windsor, MiniJumbuk, Easyrest, Neck Therapie and Tempur, we have it all under one roof. If you're unsure which pillow is right for you, don't hesitate to reach out to our expert team, who would be more than happy to assist. 
FAQs
Are gel memory foam pillows good for your neck?
Gel pillows are becoming increasingly popular due to the many benefits they offer. Not only does the hydrogel pad provide relief from night sweats, but gel-infused memory foam pillows are also beneficial for those who suffer from neck pain. The gel helps to provide support and alignment for your head and neck, while the memory foam conforms to your body to provide additional comfort. 
Are gel pillows safe?
In short, yes. As long as gel pillows are used safely, and their quality is maintained, gel-infused pillows do not pose any health risks.
Their inherent advantages give them an edge over other types of pillows. Its blend of cooling gel technology and heat-resistant visco-elastic memory foam will help prevent any tossing and turning or night sweats, keeping you up at night. Whether you opt for a classic or contoured shape, it will gently mould to your shape to help you achieve spinal alignment more easily and comfortably.
Can you wash cooling gel pillows?
Yes, cooling gel pillows can be washed. However, it is important to follow the care instructions that come with your pillow. Generally, you will want to spot-clean your pillow with mild detergent and cool water. Avoid putting your pillow in the washing machine or dryer.
What is the purpose of gel-infused pillows?
Gel-infused pillows have a hydrogel pad that sits on top of the visco-elastic memory foam. Its main job is to help regulate the body temperature by reducing heat build-up on the pillow's surface, relieving hot sleepers. That way, sleepers prone to night sweats can enjoy a comfortable sleep and reap the benefits of better sleep, from increased productivity to reduced stress, better overall mood and improved quality of life. 
Gel pillows' visco-elastic material gently moulds to your shape to help align your spine and provide ample neck support. You can choose a classic or contour-style gel pillow, depending on your needs. 
How do you sleep with a gel-cooling pillow?
To sleep with a
gel-cooling pillow
, simply place the pillow under your head and neck like any other pillow. The gel will help to keep you cool and comfortable throughout the night. To make the most of the temperature-regulating properties of the pillow, sleep with your head directly on the gel-infused side. If cooling isn't required, flip the pillow onto the other side and sleep directly on the soft memory foam surface.
Filters
Save $50.00
Save $50.00
Save $13.90
On sale
Save $40.00
Save $40.00