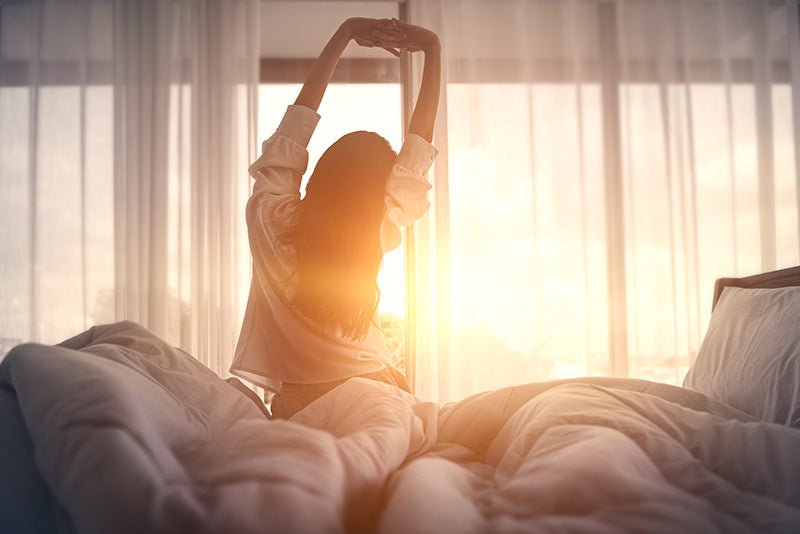 Enjoy a better, healthier night's sleep with a top quality memory foam pillow designed for ultimate neck support and comfort.
Quick
Australia-Wide delivery
L
ow Flat Rate S
hipping
 or FREE over $150. Buy online today!
Memory Foam Pillow? Heavenly, healthy sleep is now blissfully yours!
Mattress & Pillow Science offers an excellent range of top quality, memory foam pillows – each and every one comes with a contour design for ultimate neck support and comfort and can be adjusted to suit every body, shape and size. Buy online now!
Advantages of a memory foam pillow
Memory foam pillows are well known for providing much needed relief for those who suffer from neck or shoulder pain, sleep apnoea or snoring and allergies. Mattress & Pillow Science has researched and developed a superb range of visco-elastic memory pillows to address exactly these needs:
Our pillows offer superior support for the upper back, neck and head with a contoured shape, adjustable heights and superb pressure relief; perfect for anyone who has ever suffered discomfort with a sore neck. 
Memory foam gently moulds the shape of your head providing (literally) a custom-shaped depression on your pillow for an unmatched comforting, luxurious feel. Our range comes in plush, medium or firm feel, whichever you prefer best. 
Improved alignment – memory foam pillows encourage side sleeping. This essential fact reduces tummy sleeping, which over time can have a negative effect on the health of your spine. 
Reduce snoring and sleep apnoea – our memory foam pillows can drastically reduce snoring & sleep apnoea, as they encourage healthier, snore-reducing side sleeping (as opposed to back sleeping - the primary cause of snore-related issues). 
Hypoallergenic qualities – be allergy free! All Mattress & Pillow Science memory foam pillows are perfect for anyone suffering from allergies. Problem solved!

What's so different about a Mattress & Pillow Science memory foam pillow?
Our pillows offer a vastly superior sleeping experience - we are a specialist mattress and pillow retailer that focuses on providing a healthier night's sleep and this is reflected in the products we manufacture and sell. Our memory foam pillows are a superb option for healthy and sore necks alike, and will appeal to anyone who understands the importance of a good night's sleep.
Our focus on healthy sleep means our contoured memory foam pillows have been developed for optimal spinal alignment in sleeping posture, which may assist specifically in soothing neck pain, headaches or migraines, and shoulder pain.
Everyone is different. That's why each of our memory foam pillows is adjustable in height to suit any body frame. 
Longer lasting – our emphasis on top quality means a Mattress & Pillow Science contour memory foam pillow will last longer, retain its shape and continue to provide superb, pressure relief and support for years to come. 
$9.95 flat fee shipping or FREE delivery Australia-wide for orders over $150
Sleepless in Sydney? You don't have to be! We ship to all major cities, towns and regions in Australia including Sydney, Brisbane, Perth, Melbourne, Adelaide, Gold Coast, Hobart and more. We offer quick delivery Australia-wide within 7 days maximum (usually you'll receive your pillow within 3 or 4 days) for just $9.95 or if you spend more than $150, you get all your products delivered FREE of charge. Buy your memory foam contour pillow online now!
Over half of Australians (59.4%) have reported experiencing at least one symptom of insomnia three times a week or more. We're on a mission to bring that number down to zero with our collection of high-quality sleeping solutions. A favourite among our customers, especially those experiencing neck pain, is our supportive memory foam contour pillows.
What is a memory foam pillow?
A memory foam pillow is an elastic, viscose pillow that moulds to the shape of your head. It gains its shape back slowly after the pressure of your head has been removed. It is specially designed to ease neck pain and improve sleep quality.
At Mattress & Pillow Science, we offer a variety of high-quality memory pillows for people with and without neck pain. We've curated our collection through consultations with physiotherapists, osteopaths, chiropractors, and other back care professionals.
The benefits of using memory foam pillows
Memory foam pillows have a wide range of well-researched benefits. The most notable is that they provide much-needed relief for those who suffer from joint pain, particularly in the neck and shoulder region. This is because memory foam supports your spine and helps correct your spinal alignment, which is very soothing for those with neck pain and those who suffer from migraines.
Another major benefit to using a memory foam pillow change to contour memory foam pillow is that it encourages side sleeping. Sleeping on your side is usually recommended by health professionals as stomach sleeping can have a negative effect on your spine and back sleeping can cause snoring and worsen sleep apnoea. Those who have a tendency to sleep on their stomach should also browse through our collection of soft, tummy sleeping pillows.
Mattress & Pillow Science carries the best memory foam pillows in Australia
With so many different memory foam pillows on the market, it can be difficult to know which brand best suits your needs. That's why we at Mattress & Pillow Science have curated a selection of long-lasting memory foam pillows that meet our incredibly high standards.
As specialists in mattress and pillow retail, it's our top priority to review each pillow diligently before recommending it to our customers. We're not satisfied unless we can guarantee that all of our memory foam pillows can achieve a vastly superior sleeping experience for better health.
With this in mind, we only carry contour memory foam pillows that have been developed for optimal spinal alignment while soothing neck/shoulder pain and headaches. Many of our pillows are adjustable for all heights, meaning they can be used by kids and adults of all shapes and sizes.
FAQs
How do I choose a memory foam pillow?
When choosing a memory foam pillow, you should consider a few factors. The first is the temperature of your bedroom. If your room is usually on the warmer side, you may want a cooling pillow with ventilated sides. If you plan on taking your pillow with you on car rides or when travelling, you may want one that's adjustable or specifically designed for that purpose.
Put simply, you should make a mental note of the reasons why you want a memory foam pillow and then find one that suits every one of your needs. If you're having any difficulties finding the right pillow, our friendly team is happy to help!
How often should you change a memory foam pillow?
The pillows in our collection tend to last longer than the average memory foam pillow. This is largely due to their use of bamboo fibres, which are naturally absorbent and mould-resistant. However, as a general rule, it's recommended that you change your memory foam pillow every 2 to 3 years.
Can you wash a memory foam pillow?
Yes, you can wash a memory foam pillow. It's a common misconception that water will damage the foam, but it's completely safe (and recommended) that you wash the pillow by hand. We recommend using a sponge to clean the foam and minimal warm water when hand-washing the cover. You can then hang up the cover to dry and gently wring out the foam to hasten the drying process. We strongly advise against machine washing, dry-cleaning, or tumble-drying your pillow or its cover.


Wake up well-rested with a memory foam pillow
Mattress & Pillow Science is based in Melbourne, but we ship to cities and towns across Australia, including Sydney, Brisbane, Perth, Adelaide, Gold Coast, Hobart, and more. Our fast deliveries ensure that you'll receive your new foam pillow within 7 days at the absolute maximum. The delivery fee is just $9.95 or FREE of charge if you spend over $150! Order your memory foam pillow today, and you'll be enjoying its benefits in no time.
If you don't think a memory foam pillow is right for you, we recommend browsing through our various other collections. We carry high pillows, medium pillows, low pillows, soft pillows, firm pillows, and everything in between. We also have a wide selection of pregnancy pillows to help expectant mothers have a restful night's sleep.
If you have any questions or need help placing an order, please don't hesitate to reach out. You're welcome to call our Head Office on (03) 9576 8828, email us at info@pillowscience.com.au, or fill out our convenient online form. We'll get back to you as soon as possible!
Filters
Save $50.00
Save $13.90
Save $50.00
Save $12.90
Sold out
On sale
Save $12.90
Save $50.00
Save $50.00
Save $18.80
Save $40.00
Sold out
Save $40.00
Save $100.00
On sale
Save $20.00
Save $40.00
Save $15.00
Save $60.00
Sold out
On sale
Sold out
Sold out
Sold out