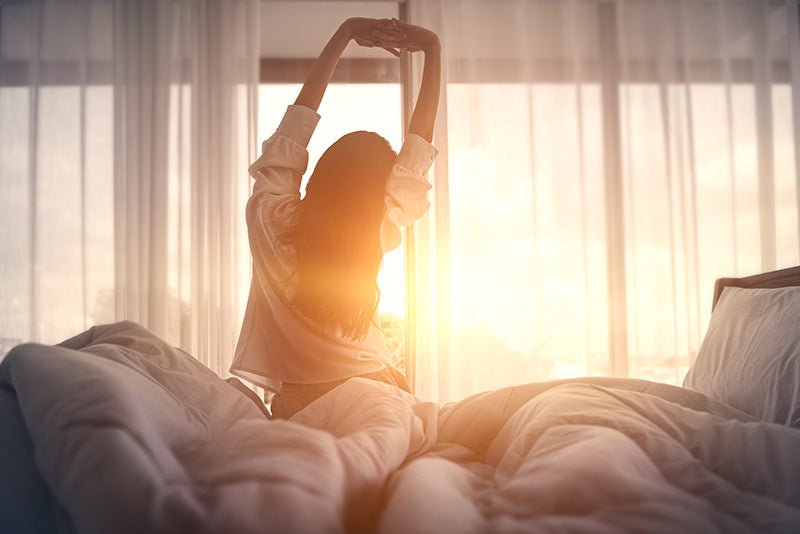 Looking for the best pregnancy pillow? Our range of full body, U Shaped or V shaped pregnancy pillows are carefully designed for optimal comfort and support while you sleep. We have speedy, Australia-wide delivery with free shipping on all orders over $150. That way, you can get a better night's rest more quickly and at the right price.
Pregnancy sleeping pillows provide ultimate comfort for mums to be
If you or your pregnant partner is experiencing the pain and discomfort that can come with pregnancy, we're here to alleviate your suffering. At Mattress & Pillow Science, we offer an extensive range of cosy pillows that'll provide you with unmatched comfort and support throughout the night — so you can finally enjoy a peaceful and rejuvenating slumber. 
From pregnancy body pillows to boomerang, U or V-shaped pillows, our top quality pregnancy pillows are super-soft, comfortable and always affordable. Our pregnancy range also caters for a variety of sleep styles, so no matter whether you sleep on your stomach, back or side, there's something for every mum-to-be at Mattress & Pillow Science. 
Finding the right pregnancy pillow 
Purchasing a pregnancy pillow is very much a personal experience, especially when you consider how you prefer to sleep. Many expecting mothers worry they could be hurting their bub if they choose to sleep a certain way, particularly if they're a tummy sleeper. Thankfully, our pregnancy support pillows have been designed to cater for all sleeping styles — and most importantly, provide a peaceful night's rest for you and your unborn baby. 
For a rejuvenating sleep, the quality, fabric and design of a pillow is what separates you from having uncomfortable nights to a constant and peaceful snooze. Even so, having a maternity body pillow can provide comfort and a feeling of security when you're trying to fall asleep. 
Whether you prefer your pillow to be firm with extra support, medium where it's not too hard or a soft pillow that you can effortlessly sink into, we have so many options available. 
Every style is unique, and as the healthy sleep specialists, we're here to ensure you find the perfect pregnancy pillow that'll provide you with all-night-long comfort. 
FAQs
How do you use a pregnancy pillow?
You can choose how to use your pregnancy pillow. For example, with a full-length body pillow, some mothers prefer to place it on their side to support their spine, or they opt to hug and wrap their legs around it whilst placing their pregnant belly on top to carry the weight. For mothers-to-be who are in their final trimester, you may want to opt for a maternity body pillow that allows you to cross your legs and arms around it. 
How do I choose a pregnancy pillow?
Before making your decision, you need to assess what style of sleeping you prefer. Our range of pillows includes styles suitable for side sleepers and back sleepers. You may prefer our high pillows as well, especially if you have a wider body frame and would prefer more coverage and comfort. 
Choosing the right pregnancy pillow ultimately means choosing the right firmness and height. For example, with our low pillows, it's ideal for sleepers with a smaller frame as well as those who sleep on their tummy or back. 
Can you sleep on your back with a pregnancy pillow?
Despite experts stating that sleeping on your back has been found to provide many benefits such as neutral alignment and pressure relief, it's usually recommended for expectant mothers to opt for side sleeping as it provides the best circulation for the mother and their baby. 
However, you technically can sleep with a back pillow at the beginning of your pregnancy, but as the pregnancy progresses through the first trimester, sleeping on your back could cause problems. Also, once your belly does expand in size and weight, sleeping on your side might make you feel more comfortable.  
Do I need a pregnancy pillow?
A pregnancy sleeping pillow is designed to comfort and support you during your pregnancy and to ensure you get the best sleep. You may suffer from neck pain or find that you overheat when you sleep and struggle to get good rest because of the style, firmness and material of your current pillow. 
No expectant mother wants to struggle to get good sleep, which is why our range of pregnancy pillows are here to support and comfort you during pregnancy. Recommended by health professionals, our range of pregnancy sleeping pillows are here for you. So whether you need your everyday body pillow, under the belly support pillow or you're after a full-length maternity body pillow made to ensure spinal alignment and comfort.  
When should I buy a pregnancy pillow?
As side sleeping is medically recommended for expectant mothers, we suggest you buy a pregnancy pillow as soon as you can to get familiar and build a habit of sleeping on your side, especially if you're a back or tummy sleeper. 
You could always start with an adjustable pillow to slowly make the transition to your pregnancy sleeping pillow. With four heights to choose from, you can make slight adjustments with either a high side, which is generally recommended for people who sleep on their sides, or a lower side, which is best suited for back or tummy sleepers. 
Once you progress and familiarise yourself with slight adjustments, you can then make your first purchase of one of our maternity pillows. 
All of our pillows come with the Mattress and Pillow Science sleep satisfaction guarantee* to ensure you get the solution that you require. 
Call now or buy online and experience the Mattress & Pillow Science difference for yourself.
Filters