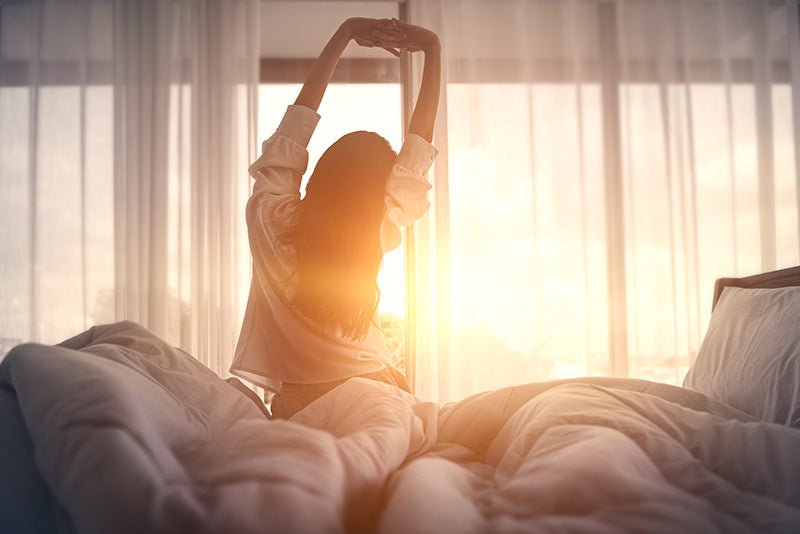 Besides making excellent mattresses for back pain, memory foam mattresses are a great choice for various other reasons.
A perfect fit for your body's contours
If you have trouble getting to sleep because you just can't get comfortable, consider purchasing a good quality memory foam mattress. Because it instantly moulds and flexes to your unique body contours, you will feel at ease as soon as you snuggle into bed.
Did you know that memory foam mattresses are also ideal for side and front sleepers? These positions put more strain on your joints. As such, a flexible material like memory foam is ideal, giving your body targeted support.
Suitable for allergies too
Quality memory foam mattresses are hypoallergenic too, making them suitable for anyone who suffers from allergies or has dermatological issues like sensitive skin or eczema.
They're great for anyone who sleeps with a partner who moves around a lot at night, as they absorb movement and ensure minimal disruption.
Many people also love them because they retain their shape, springing back with ease even after a full night's use.
So, there are plenty of reasons why you should shop for memory foam mattresses online from our collection.
Choose from top brands like A.H. Beard, Comfort Sleep, and Transforma and see all our mattresses by size, including single, double, queen and king.
Once you've sampled the supreme comfort of a high-quality memory foam mattress from Mattress & Pillow Science, you'll never look back!
FAQs
What are the problems with memory foam mattresses?
It's hard to find fault with high-quality memory foam mattresses. But it is worth being aware that they can feel hotter than traditional mattresses. Fortunately, this is not a problem if you opt for a gel mattress. Its gel layer will draw heat away from the surface of the mattress and towards the core, keeping you at a comfortable temperature all night long.
Is a memory foam mattress worth buying?
If you're looking for a mattress that will flex to your body shape, provide the support you need and is hypoallergenic and easy to keep clean, then yes, a mattress made of memory foam, quality guaranteed, is a great choice!
Go for the best memory foam mattress within your budget and you will be rewarded by a durable, comfortable and supportive mattress that will suit your unique sleeping style.
Which mattress is good memory foam?
For the best quality memory foam mattress, try a gel or cooling mattress. Its inner gel layer will draw excess heat away from the sleeper to keep them comfortable.
So, as well as providing the tailored support your body needs to rest well, your memory foam mattress will keep at just the right temperature all night long.
Is memory foam better than a regular mattress?
A memory foam mattress can provide an alternative option to a pocket spring or innerspring mattress, offering greater flexibility with just as much support.
They're also recommended over a traditional mattress if you have a tendency to sleep on your side and could benefit from the extra support a good quality memory foam mattress provides.
Which is better, bonded foam or memory foam?
The two most popular types of foam mattress are the bonded foam mattress and memory foam mattress.
Bonded foam mattresses are made of polyurethane foam, "bonded" under high pressure. Layers of this material ensure that the mattress retains its shape better, sags less readily and provides extra back and shoulder support.
Memory foam is also made of polyurethane but has added materials to give it a more elastic quality. This means that it flexes more naturally to your body shape. Memory foam mattresses can also accommodate any sleeping position comfortably.
If you prefer a slightly softer, more flexible feel, then a memory foam mattress makes a great choice.
How long do memory foam mattresses last?
With proper care, memory foam mattresses can last up to 10 years. To prolong its life, care for your memory foam mattress by:
Adding a mattress protector

Rotating it every six months

Preventing children or pets from jumping on it

Airing it at regular intervals