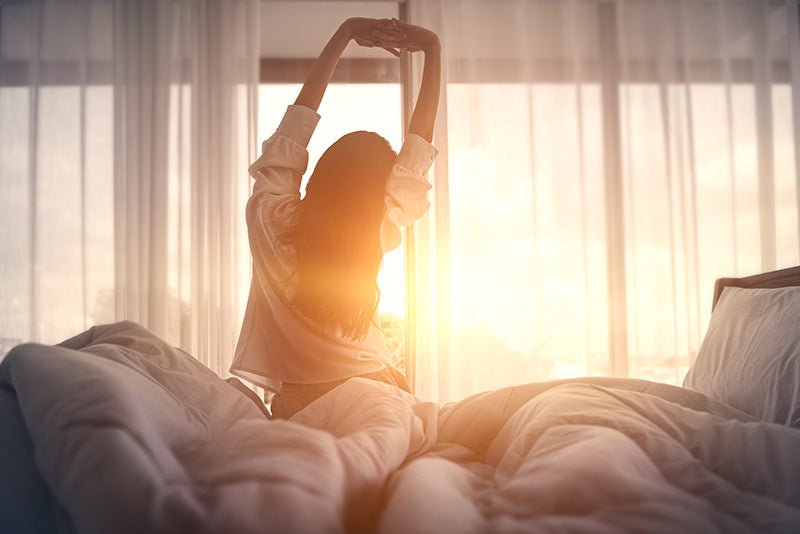 Warm, snugly winter quilts for all the family to protect against the winter chill. Quick delivery Australia-wide. Flat fee shipping only $11.95 or FREE DELIVERY over $150. Buy online!
At Mattress and Pillow Science, we have a great range of the fluffiest and warmest winter quilts from some of the most respected suppliers in bedding. 
From luxury European goose down to the warmest Australian Alpaca and Sheep's wool fills, we have quilts that'll send you into a blissful slumber on the coldest nights.
At Mattress and Pillow Science you're sure to find what you want in our online catalogue.  Don't delay - speak to one of our healthy sleep specialists today for expert advice.
Call now or buy online and experience the Mattress & Pillow Science difference for yourself.
When it comes to achieving a comfortable sleep in winter, staying warm and cosy is key. Here at Mattress & Pillow Science, you can find an extensive range of the warmest and most comfortable winter quilts in Australia, along with a large collection of winter quilt cover sets suitable for every home.
We understand exactly what you're looking for in a winter quilt. We work with healthcare professionals to provide products that are safe and healthy, as well as comfortable and warm. There is something in our range for every sleeping style and preference, as well as plenty of design choices to coordinate with your chosen décor style. Whether your home is modern or traditional, we can provide you with winter quilt cover options you're sure to fall in love with.
A winter quilt for every bed
Whatever your size of bed, we can provide you with the finest quality winter quilts in Australia, designed to keep you warm and comfortable during the coldest months of the year. If you have a single bed, you can choose from regular single, long single  or king single quilts, so you can get the best possible fit.
Couples and singles with larger beds can choose from our range of double, queen and king winter quilts. Or, for the ultimate in luxury, try our super king size quilts for an extra expanse of warmth!
If you're looking for a winter quilt for a child, we offer ranges of kids' quilts and toddlers' quilts, which include plenty of snuggly options your little ones (and older ones) will love!
We also cater to individual needs. If you need an allergy-sensitive quilt, we can provide you with products that will enable you to sleep peacefully, free from irritation through the cold winter nights.

The best quality winter quilts in Australia
At Mattress & Pillow Science, we only stock products from the most reputable brands. This ensures you will receive a winter quilt that has been well-designed and built to last for many years. Some of the respected names we sell include:
- Bambi
- MiniJumbuk
- Kelly & Windsor
- Downia
We also cater to a wide variety of different budgets – and you might even be able to grab a bargain in our winter quilt sale!
FAQs
What's the best quilt for winter?
This depends on your preference and your sleeping style. Most people tend to prefer a warmer, heavier quilt in winter, with wool and feather quilts being popular options. However, if you are a warm sleeper all year round, and you need a winter quilt that will keep you warm while still being lightweight and breathable, you might want to choose cotton, Tencel or bamboo.
What is the best quilt for allergy sufferers?
If you want a quilt that keeps you warm in winter while being allergy-sensitive, you should consider a polyester/ microfibre quilt. These man-made materials will not set off your allergies in the same ways as natural products such as feathers. A wool quilt can also be a good choice, as wool is naturally resistant to dust mites, which can be a cause of allergies.
Are quilts warm in winter?
Yes, quilts are renowned for their warmth and comfort. For the coldest times of the year, however, it is important to choose a quilt that has been specifically designed for winter conditions. In addition to our winter quilts, we can also provide you with quilts designed for spring, summer and autumn, as well as those suitable for all seasons. Our collection enables you to achieve the perfect weight and temperature, whatever the time of year.
What's the best quilt filling?
This depends on your preference. Feather and wool quilts are generally associated with higher levels of luxury, while microfibre or Tencel are more modern choices. The 'best' filling will always be subjective and will depend on your sleeping style and your own individual needs.
Which quilt is warmest?
Feather or down quilts are usually considered the warmest, although wool quilts are also extremely warm. Both are popular and practical choices for winter. However, you can also achieve warmth by choosing the correct weight of the quilt. A quilt that has been designed for use in winter will always be warmer than one that is meant to be used at other times of the year.
Are bamboo quilts warm in winter?
Bamboo is a lightweight, breathable fabric, which means it is generally associated with keeping you cool in the summer. However, one of the amazing properties of bamboo is that it actually helps you to regulate your temperature. Because of this, it can also keep you warm during the winter months. As it is so light in weight, bamboo is an ideal quilt material for those who tend to be warm sleepers but who still need to stay cosy on winter nights.
Are quilts warmer than blankets?
Quilts have the advantage over blankets here, as they are heavier and thicker, so they can keep you warm more effectively. In winter, you will need several blankets to achieve the warmth of one quilt. Because of this, quilts tend to be favoured. They also have a better aesthetic, as you can choose a winter quilt cover that matches your home décor tastes.
Which is warmer, duvet or quilt?
There is no definite answer to this question, as it depends entirely on the individual duvet or quilt. Both come in many different weights, and you can even layer them to create your desired weight or level of warmth. Ultimately, whether you choose a duvet or a quilt is a matter of personal preference.
Buy winter quilts online
Mattress & Pillow Science makes it easy for you to buy a wide range of quilts suitable for the winter months. We ship winter quilts Australia wide. Find your perfect winter quilt today, or please contact our team if you need any help and advice.
Filters
On sale
Sold out
On sale
On sale
Sold out
On sale
On sale
On sale
Sold out