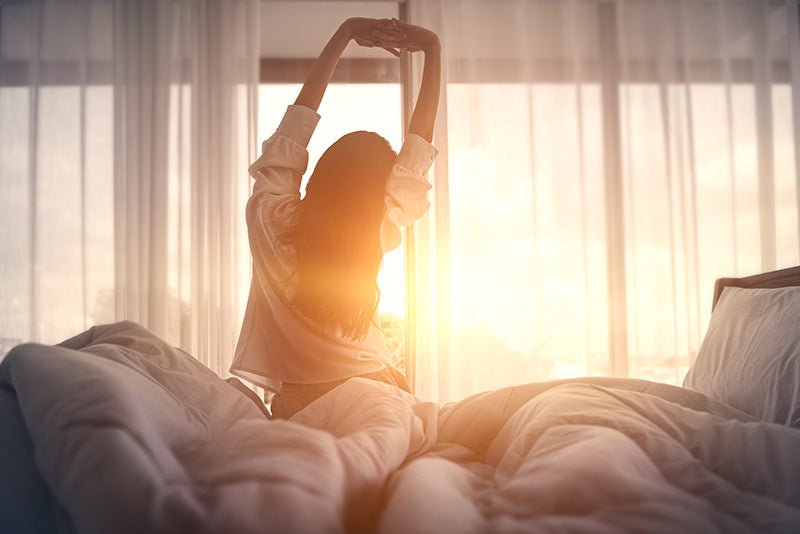 Bambi is famous for its premium quality wool-fill and soft, breathable bamboo quilts. Choose a healthier nights sleep for all the family. Quick,  Australia-wide delivery
L
ow flat rate 
shipping
or FREE over $150. Buy online!
Looking for a quality Bambi quilt?
For over 30 years, Bambi have grown from their humble roots in New South Wales' Central Coast, to developing a strong national and international reputation for using the finest Australian wool and other premium natural materials.
With a staggering range of quality fills, sizes, and weights to choose from here at Mattress and Pillow Science you're spoilt for choice.
Whether it's a Bambi Tencel quilt or warm and soft Bambi wool quilt you're after, you'll be sure to find a quilt that matches your unique needs.
Don't delay - speak to one of our healthy sleep specialists today for expert advice.
Call now or buy online and experience the Mattress & Pillow Science difference for yourself.
When it comes to choosing the perfect quilt, the name Bambi is synonymous with quality and comfort. Here at Mattress & Pillow Science, we are proud to stock an extensive range of Bambi quilts online at budget-friendly prices.
An all-Australian, family-run firm, Bambi has been manufacturing outstanding quilts since 1984 and has grown to become one of Australia's best-known and loved quilt manufacturers. Their innovative ethos and procedures have won them numerous awards for design and manufacture. They are also passionate about sustainability, ensuring that their quilts are ethically produced with minimal environmental impact. In addition, Bambi quilts are designed to be long-lasting and are protected by excellent warranties, giving you complete peace of mind.
The Bambi quilt product range encompasses quilts suitable for all sleepers at all times of the year. Whatever size of quilt you're looking for, whether single, king single, double, queen, king or super king, there is a quilt in the Bambi collection to suit your needs. They even offer kids' quilts to keep your little ones' body temperatures regulated as they sleep and special cot quilts designed for toddlers.
Durable and highly comfortable, Bambi quilts are ideal for all requirements, and you are sure to find the right quilts in our extensive Bambi selection to suit all your needs.
FAQs
Are Bambi quilts superior to other quilts?
Bambi quilts are known to be among the best in Australia, as they use innovative technology and the highest quality materials to produce quilts with impressive levels of comfort. They have won many awards, including the Australian Furniture Excellence Award and the Central Coast Manufacturers Award. In addition, they were the first quilt manufacturers in Australia to be awarded the Woolmark Gold Label Licence.
At Mattress & Pillow Science, we only stock products of the highest quality and made by the most reputable manufacturers. Aside from Bambi, we also offer quilts by many other famous brands, including Alastairs, Downia, Kelly & Windsor, MiniJumbuk and more.

What's the best quilt to buy?
This always depends on your personal preference and whether you are a warm or cool sleeper. You need to choose a material that suits your natural temperature if you want to get the most comfortable night's sleep. Warm sleepers will want to select a material that keeps you cool as you sleep. Some examples include cotton quilts and bamboo quilts. Cool sleepers, by contrast, will need a quilt that helps to keep you warm, such as a wool quilt, a feather quilt, or a polyester/microfibre quilt, all of which are ideal for warming you up if you tend to get cold at night.
If you're looking for a quilt to help regulate your body temperature as you sleep, you could consider Tencel, a sustainable, plant-based material which Bambi introduced to Australia. This soft, breathable material is ideal for keeping you cool at night in the summer and warm and cosy during the winter months.
What is the best quilt for allergy sufferers?
Allergy sufferers need a quilt that is made from a non-allergenic material. A polyester/microfibre quilt may seem like the obvious choice here, as these quilts were developed specifically as a hypoallergenic alternative to natural fibres. However, some natural materials are also good options for those who suffer from allergies. While you might want to avoid feathers, you could still consider wool or Tencel. Both materials are naturally resistant to some of the leading causes of allergies, including mould, bacteria and dust mites.
Are quilts warm in winter?
The warmth of your quilt depends on its material and makeup. Wool and feathers are materials that are commonly used in quilts and are known for their warmth. Man-made quilts such as polyester/microfibre are also renowned for being warm in winter.
Here at Mattress & Pillow Science, we understand that you will need different things from a quilt depending on the time of year and the climate where you live. This is why we offer ranges of quilts specifically designed for summer, autumn, winter and spring. We also stock quilts suitable for all seasons, enabling you to have a relaxing, temperate night's sleep all year round.
Are quilts warmer than blankets?
This will vary depending on the number of blankets you use. In general, however, quilts are warmer than blankets, as they have been designed specifically to provide a certain level of warmth. They are also more comfortable, due to how they fit 'round your body as you sleep, and they save you a lot of time when making your bed, as there is only one item to worry about.
Which is warmer, duvet or quilt?
Many people think duvets and quilts are the same thing. In fact, they are different. Duvets are designed to be used inside a cover, while quilts do not need one. If you want, however, you can use a quilt protector to keep your favourite quilt in the best possible condition.
Duvets and quilts can be made from a variety of materials and are available in different weights, so it is difficult to say which is warmer. However, in terms of pure ease of use and levels of comfort, we believe quilts are the best!
Shop Bambi quilts online
It's easy to order Bambi quilts here on our site. We deliver Australia-wide, and we offer FREE shipping on orders over $150. In addition, we won't be beaten on price! You can find your favourite Bambi quilts here at a price to suit your budget.