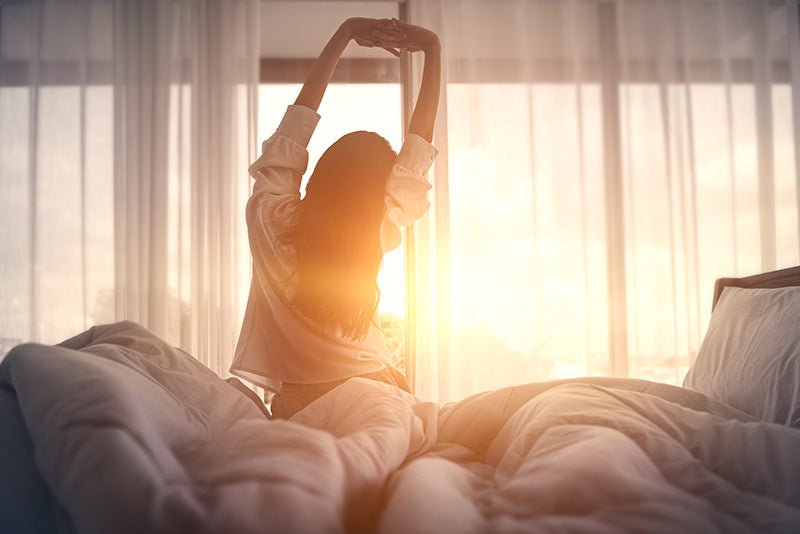 Shop king single quilts from some of the best local and international brands in bedding. Quick, flat fee Australia-wide delivery only $9.95 or FREE over $150. Buy online!

If you're the proud owner of a king single bed, then congratulations on your wonderful choice! They're the perfect size bed for anyone who sleeps on their own but likes a little extra space, and they're great for growing children and teenagers too.
Now you'll need to find the perfect quilt for your bed. Search our range for quality, comfortable king single quilts for that finishing touch, brought to you by top Australian and international brands.
You'll also find king single mattresses and king single sheet sets in our online collection, making it easy to get everything you need for a good night's sleep in one place!
FAQs
What is a king single quilt?
A king single quilt is the perfect fit for a king single mattress. A king single bed is in between a single and double size — in fact the biggest single bed you can get — and is a versatile and popular choice in Australian homes.
King single quilts and beds are perfect for older children who are not quite ready to graduate to a double bed but need some extra space to feel comfortable, especially if they're going through a growth spurt.
King single beds are also an excellent choice for adults who sleep on their own and appreciate the bigger dimensions of this size bed. They're also great for a smaller bedroom that's not quite spacious enough for a double bed.
What size quilt fits a king single bed?
The standard king single quilt size is 210 cm in length by 160 cm in width. This makes them wider than the average single quilt and a perfect fit for a king single bed.
The generous dimensions mean you can snuggle into your king single quilt and enjoy a comfortable night's sleep. And you don't have to be asleep to appreciate them! You can enjoy the cosy feel of your king single quilt if you like relaxing in bed for some precious 'me time'.
Are there king single quilts?
Yes, there is such a thing as king single quilts! They're the perfect companion to king single beds, proportioned a little more generously than the traditional single and perfect for anyone who wants a bit of extra space and comfort at night.
You can get your king single quilt online here at Mattress & Pillow Science, the home of the best quality mattresses, pillows and bedding, selected to give you the most comfortable night's sleep yet!
Can a single quilt go on a king single bed?
Because a single quilt is designed for a single bed, it won't fit adequately on a king single bed. A single quilt is narrower than a king single quilt, so it won't be the best choice.
We would recommend purchasing a king single quilt for a king single bed to make sure you get the comfiest night's sleep. It's the perfect size for a king single quilt, giving you the warmth and comfort you need.
Is a king single and a double quilt the same size?
No, king single and double quilts are not the same size. While they will be the same length, a double quilt is around 20 cm wider than a king single quilt to ensure it fits a double bed properly.
If you use a double quilt on a king single bed, then its edge may drape on the floor and it could feel heavy and just not the right size for your bed. That's why we recommend king single quilts, which will provide a perfect fit for your mattress size.
Search our collection for a quality king single quilt online that's just the right fit for your king single bed.
What are the dimensions of a king single quilt?
A king single quilt size is 210 cm in length by 160 cm in width. They're 20 cm wider than a single quilt, ensuring that they fit a king single bed perfectly, making you feel cosy and looking great too!
How do I care for my king single quilt?
Just as a mattress protector is vital in keeping your mattress clean and safe from spills and dust mites, a quilt protector is vital for protecting your quilt. These products will keep your mattress, quilts and sheets free of any spills, wetness and stains so that they keep in great condition for longer.
You should shake your king single quilt every morning when you make your bed to keep the filling evenly distributed.
Be sure to clean your king single quilt regularly. Some quilts can be machine washed, while others may need specialist dry cleaning, so check the care label carefully.
Make sure your quilt is completely dry before you put it back on your bed. You can gauge whether it's completely dry by weighing it before and then after washing. If it's the same weight, then it will be dry and ready to go back on your bed.
It's also a good idea to air your quilt every now and then simply by hanging it outside to keep it fresh.