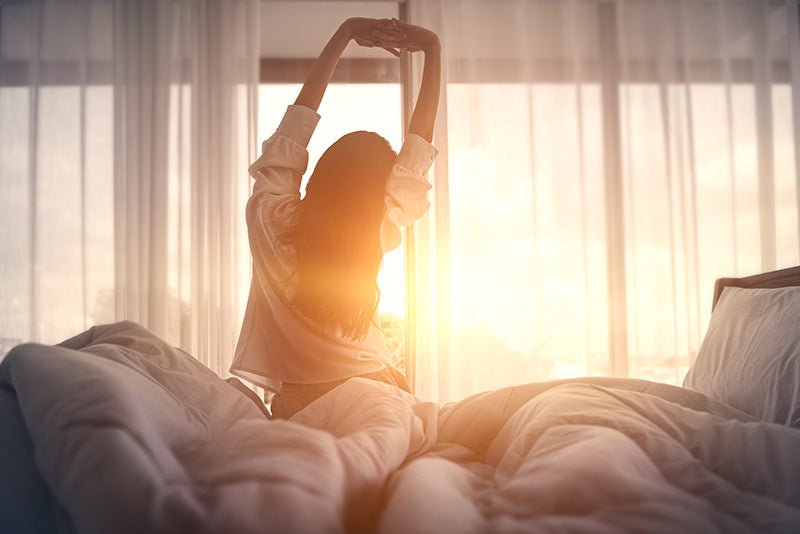 Because they provide comfortable support all night long, gel mattresses are ideal for people with restricted mobility and those living with health issues related to chronic pain such as arthritis, fibromyalgia or back pain. The pressure-relieving gel will gently flex to your unique body shape and support you as you sleep, ensuring that you get a great night's rest.
When you need extra support and care
A gel memory foam mattress is also an excellent solution for anyone facing short-term issues such as pregnancy or just after surgery, when you need a little extra support and care.
And, of course, a cool gel mattress is your go-to if your body temperature sometimes stops you from getting the best night's sleep. While some people are just warmer by nature, others may find themselves suffering from night sweats or increased temperature due to health or hormonal changes such as menopause.
Perfect for all climates
Gel mattresses are perfect for the summer season and warmer climate zones, drawing heat away from your body and ensuring that you get the refreshing night's sleep you deserve.
You can search for your perfect gel mattress online from our handpicked collection, which includes top brands like SleepMaker, A.H. Beard and Comfort Sleep.
You can also choose your gel memory foam mattress by size — whether that's single, double, queen or king — or by feel — firm, medium or plush — so you can get a comfortable and supportive night's sleep.
FAQs
Are gel mattresses good?
Gel mattresses are not only good — they're great! That's because they don't just serve one purpose. While their best-known benefit is to keep you at a comfortable temperature as you sleep, they also provide support by flexing to the contours of your body.
So, not only will you enjoy a cool and comfortable night's sleep, but you will also wake up feeling refreshed with reduced aches and pains, thanks to the supportive nature of your gel mattress.
What is the purpose of a gel mattress?
The primary purpose of a gel mattress is to ensure that you don't get overheated when you sleep.
Because memory foam mattresses tend to trap heat, a gel layer can be included in the design to draw away this heat to the core and keep the surface cool and comfortable.
But that's not all. The combination of memory foam and gel means that your mattress is supportive and flexible, fitting the unique contours of your body.
Which is the best gel mattress?
The best gel mattress will be one that fits your unique requirements. If you sleep alone in a small bedroom, a single gel mattress will be ideal. But if you sleep with a partner and have more space, why not size up and go for a king mattress for an extra luxurious feel?
The same goes for the feel of your mattress. Choose from firm, medium and plush mattresses for one that suits your individual taste.
Pay attention to the brand name too. Know that Mattress & Pillow Science work closely with top manufacturers and suppliers so that every product we offer is of the highest quality!
How long do gel mattresses last?
With proper care, a cool gel mattress will last for around a decade. In fact, many of the gel mattresses in our collection come with an automatic 10-year guarantee!
To prolong your mattress's life, you should:
Use a mattress protector.

Rotate it every six months.

Ban children or pets from jumping on it.

Strip it every month and expose it to sunlight by leaving your bedroom curtains or blinds wide open to release moisture.
Are gel mattresses cold in winter?
Gel mattresses
are smart. They draw away excessive heat from the uppermost surface of the mattress, and once this heat retention reaches its optimum, the mattress will feel just right at a comfortable temperature.