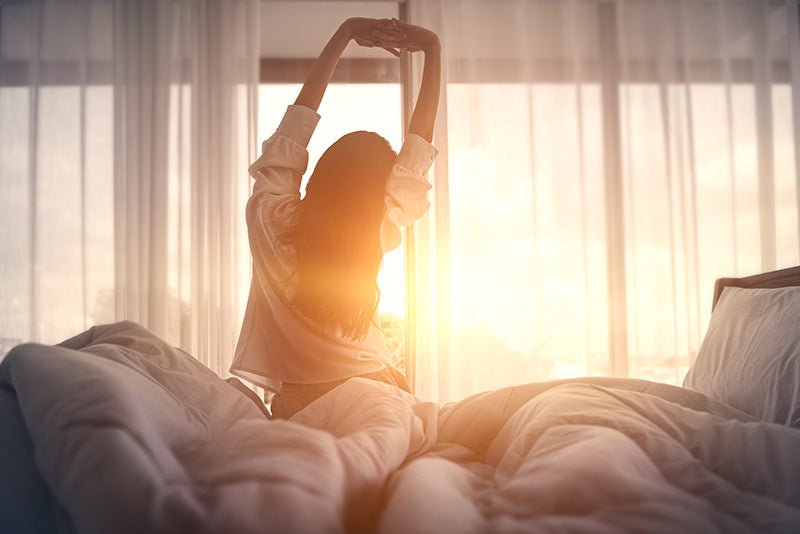 Looking for the best pillow for side sleepers? Sleep better tonight with a pressure-relieving, super-comfortable contoured pillow designed for healthy side sleeping.
Quick
Australia-Wide delivery -
L
ow Flat Rate S
hipping
 or FREE over $150 to
 help you enjoy a better night's sleep. Buy online now!
Side Sleeper Pillows for a healthier night's sleep
Sleeping on your side is the sleep position most health professionals recommend to promote better spinal alignment (a straight spine) and ensure your airways are kept clear.  At Mattress & Pillow Science we always recommend a contour pillow for side sleepers as the contour fits snugly into your neck, giving your head cushioned support, and taking any pressure away from your shoulders.
It is important that the pillow is the correct height – not too low or too high – and this will usually depend on your body frame and shoulder width. Comfort and feel is very much an individual choice.
Mattress & Pillow Science has an extensive range of pillows designed for side sleepers. 
Not only will your specially designed side sleeping pillow support your spine, relieving backache and promoting a restful night's sleep, but it will offer you many other benefits as well. For example, a side sleeper pillow can help relieve aches and pains in other areas of your body. So if you suffer from headaches as a result of bad posture, you may find that regular use of your side sleep pillow provides the relief you have been seeking. And because our pillows for side sleepers are available in a wide variety of materials, you can take your pick of comfy, hypoallergenic pillows that help you get a wonderfully refreshing night's sleep.
FAQs
What type of
 

pillow is best for a side sleeper?

The best pillows for side sleepers share a few features. For one, a thick pillow is better than a thin pillow as it offers support to the space between your head and your neck. At Mattress & Pillow Science, we recommend contour pillows that give you the support you need as well as relieving pressure in the shoulder area. 

A medium to firm pillow is also more likely to offer you the support you need, making it the best pillow for a side sleeper. And if you're sensitive to any kind of allergens, our good quality side sleeper pillows are also available in hypoallergenic material.
How do you pick a
 

side sleeper pillow?

When you're looking for a side sleeping pillow, study the shape of the pillow first. Contour pillows, named for their shape that support the contours of your body, are the ideal pillow for side sleepers. It also helps to choose a side sleeper pillow that is made from a hypoallergenic material, so you don't have to worry about sniffing and sneezing at night. Try natural materials like bamboo or wool, or even microfibre fabrics, known for their hypoallergenic properties.
What is the
 

best pillow for a side sleeper in Australia?

The best pillow for side sleepers in Australia offers a high-quality design with the right level of support. At Mattress & Pillow Science, we offer a wide variety of different pillows for side sleepers at affordable prices, so you can get a restful night's sleep no matter what your budget is.
Should side sleepers use a pillow?
Experts recommend pillows for side sleepers to give the head, neck and spine the support needed. Contour pillows tick all these boxes as they provide extra support under the neck — ensuring your spine is aligned correctly all night. Contour pillows also feature a flat area where your head can rest comfortably for a peaceful, comfortable sleep.
Where should I put my arms when sleeping on my side?
If you're a side sleeper, the best place for your arms is by your side. If you tend to hug your pillow or place your arms in an upwards position, this may lead to pressure and pain in your neck and shoulders.
How high should a pillow be for side sleepers?
If you're looking for the ultimate pillow for a side sleeper, make sure it is high enough to support the space between the neck and shoulders.
How do you use a
 

side sleeper pillow?

If you've just purchased a side sleeper pillow like a contour pillow from Mattress & Pillow Science, you may be wondering how exactly to use it. The lower end of your contour pillow should be placed parallel to the head of your bed. Your head should be placed on the flat area, with your neck being supported by the raised contour of the pillow. Your side sleeper pillow should align with the natural curve of your neck and shoulders to ensure you get the best, most comfortable night's sleep.
Will a
 

side sleeper pillow

 

help me sleep?

Yes, there are many reasons why your side sleeper pillow will help you sleep better. Firstly, the contours will help support your neck, head and spine, reducing any aches and pains brought on by bad posture and lack of support as you sleep. This means you'll sleep better and should wake up pain-free to start your day on a positive note.

In addition to this, the choice of materials can also contribute to you getting a good night's sleep. Our side sleeper pillows come in various different materials, so you can find one that matches your needs and preferences. Choose hypoallergenic fabrics like bamboo or wool to reduce the risk of allergy symptoms that may be keeping you awake.

If you find that you have trouble sleeping due to being too hot, you can also try a side sleeper copper-infused pillows, which will help keep your pillow cool by dispersing heat. Our full range of cooling pillows can be viewed on our website and can help provide a cool night's sleep while offering you the support you need.
Can
 

side sleeper pillows help with backache?

Yes, the best pillows for side sleepers will minimise the risk of triggering or exacerbating backache. This is because side sleeper pillows provide extra support in the gap between your head and neck, keeping your spine in alignment and reducing strain on various pressure points in your body. The support they offer also means that you are less likely to suffer from aches and pains elsewhere in your body. 

You can explore our full range of pillows for neck pain, pillows for migraines and headaches and orthopaedic pillows to know more.

Filters
Save $50.00
Save $13.90
Save $50.00
Save $12.90
Sold out
Save $10.90
On sale
Save $12.90
Save $50.00
Save $50.00
Sold out
Save $40.00
Sold out
Save $40.00
Save $13.90
On sale
Save $20.00
Save $15.00
Sold out
On sale
Sold out
Sold out
Sold out
Sold out