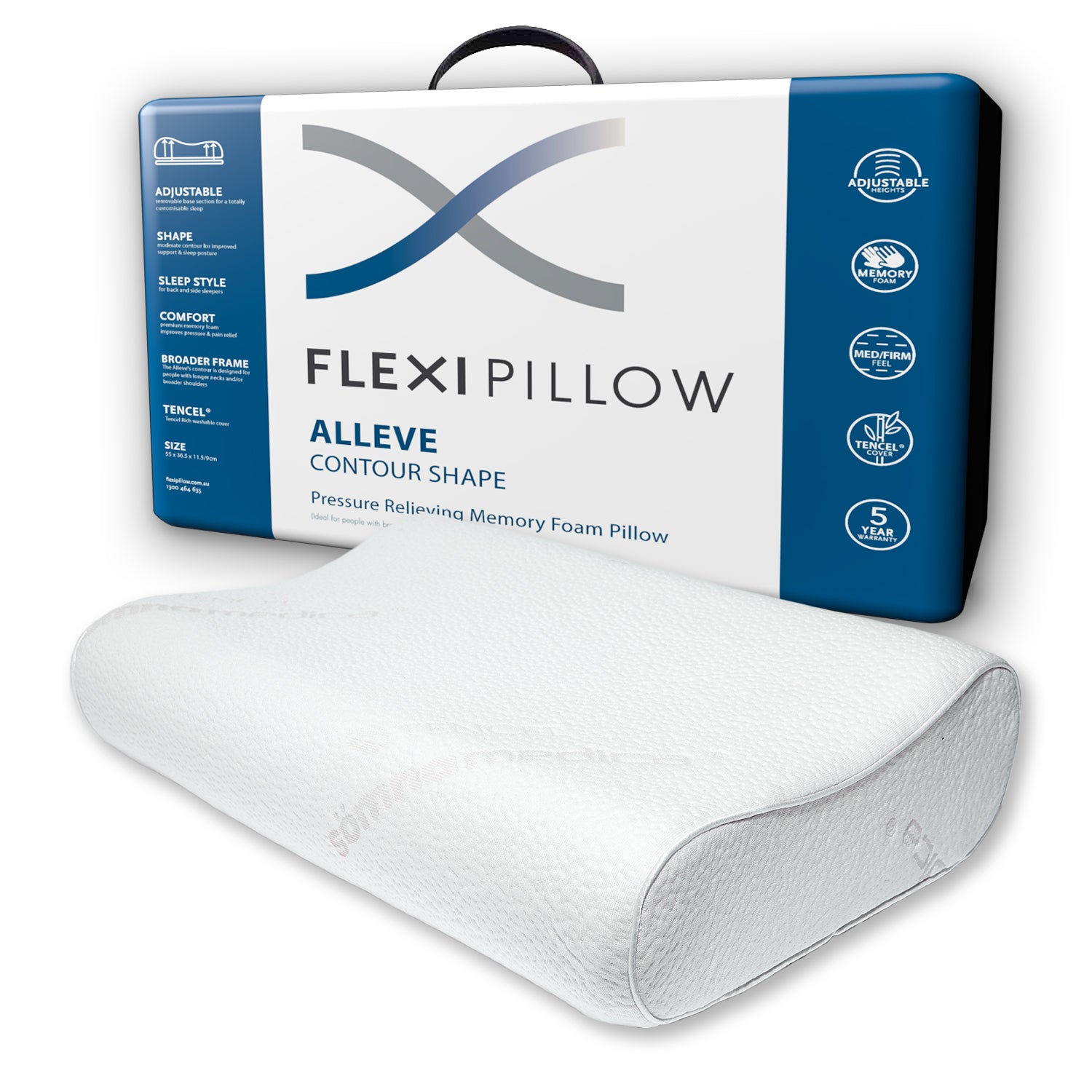 Flexi Pillow - Alleve
Upgrade Your Sleep Today With The Best In Neck Support and Comfort
The Alleve is one of the most popular pillows available that is recommended by back-care professionals Australia-wide. In-home trial T's & C's apply*
- Next Day Shipping (Free over $150*)
- Height Adjustable Insert
- Healthcare Recommended
- 5 Year Warranty
---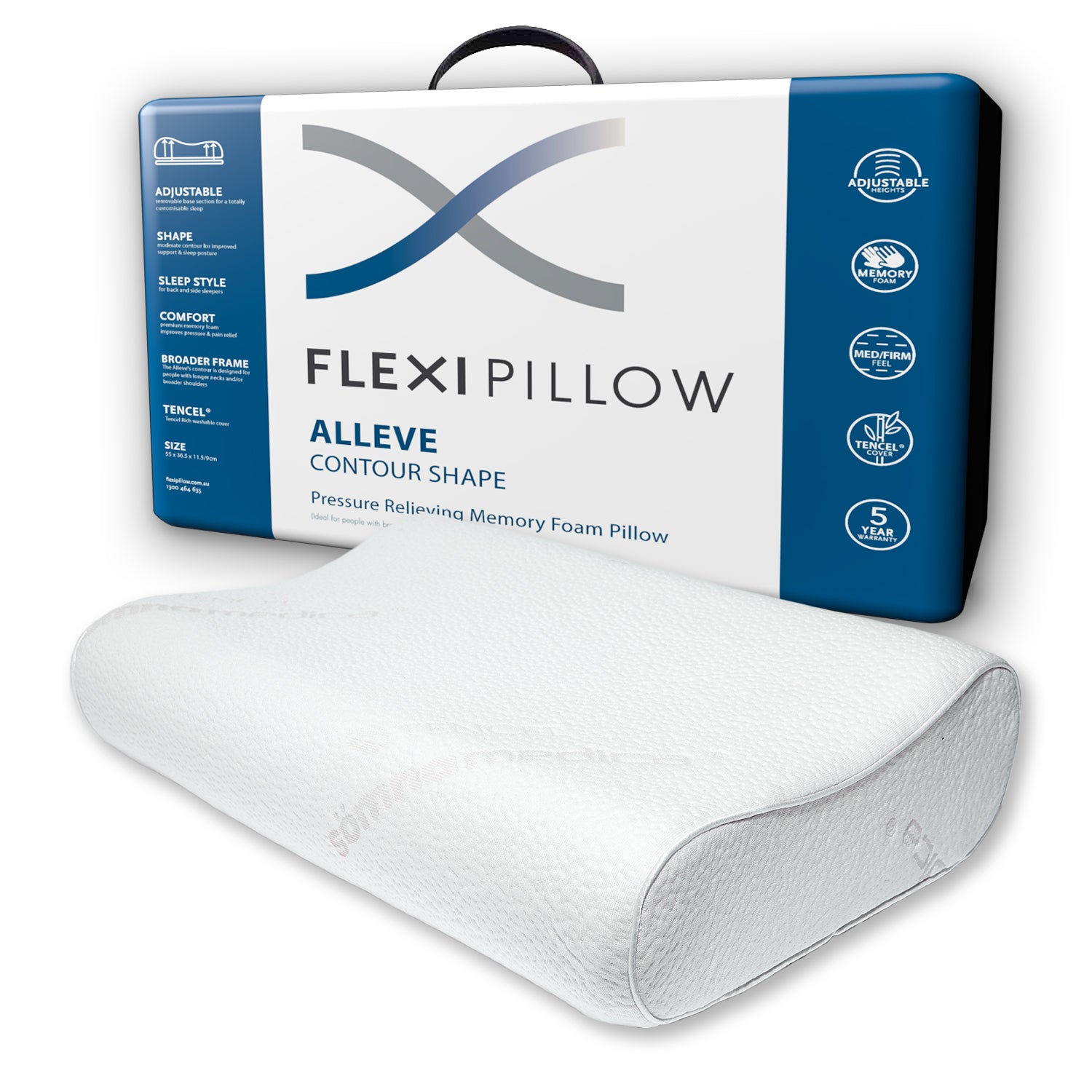 Flexi Pillow Alleve
The Flexi Pillow Alleve Pillow was initially designed to be sold by back care professionals, but is now available at many exclusive bed stores as well. Mattress & Pillow Science carries the entire Flexi Pillow Range.
All Flexi Pillow Contour Pillows are designed with a double lobe contour to support the neck and to provide a fantastic, peaceful night's sleep. They are adjustable to 4 different heights so that one size will fit all (or most).
30-Day Sleep Satisfaction Guarantee.

We are so confident that you will enjoy both the comfort and support that this pillow offers – that we offer a 30-day satisfaction guarantee. Sleep on the pillow for up to 30 days and if you are unhappy with your purchase we will refund you, less the delivery charge. 
This product is rated 4.7 of 5.0 stars.
It has received 9 reviews.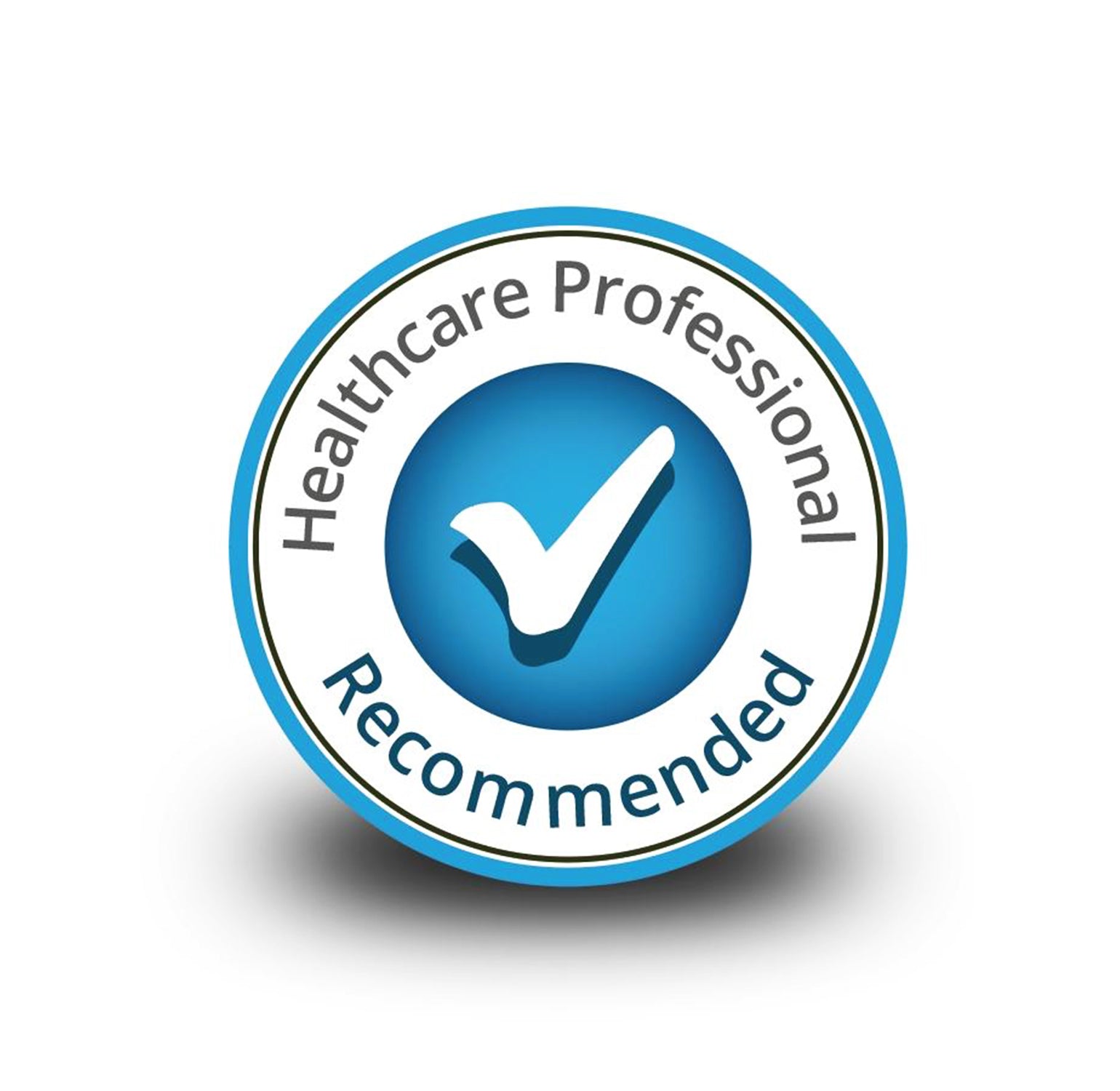 Recommended by Back-Care Professionals
The Alleve is by one of the most popular pillows on this site that is sold or recommended by back-care professionals Australia Wide. More than 20,000 Flexi Pillow Harmony Pillows have been sold nationally since July 2011.
The Flexi Pillow Alleve is popular with Back-Care professionals largely because it is a pillow that is supportive yet very comfortable. It improves your sleep posture at the same time as providing you a peaceful and comfortable night's sleep. It's a pillow that is of medium/firm feel and will suit most people.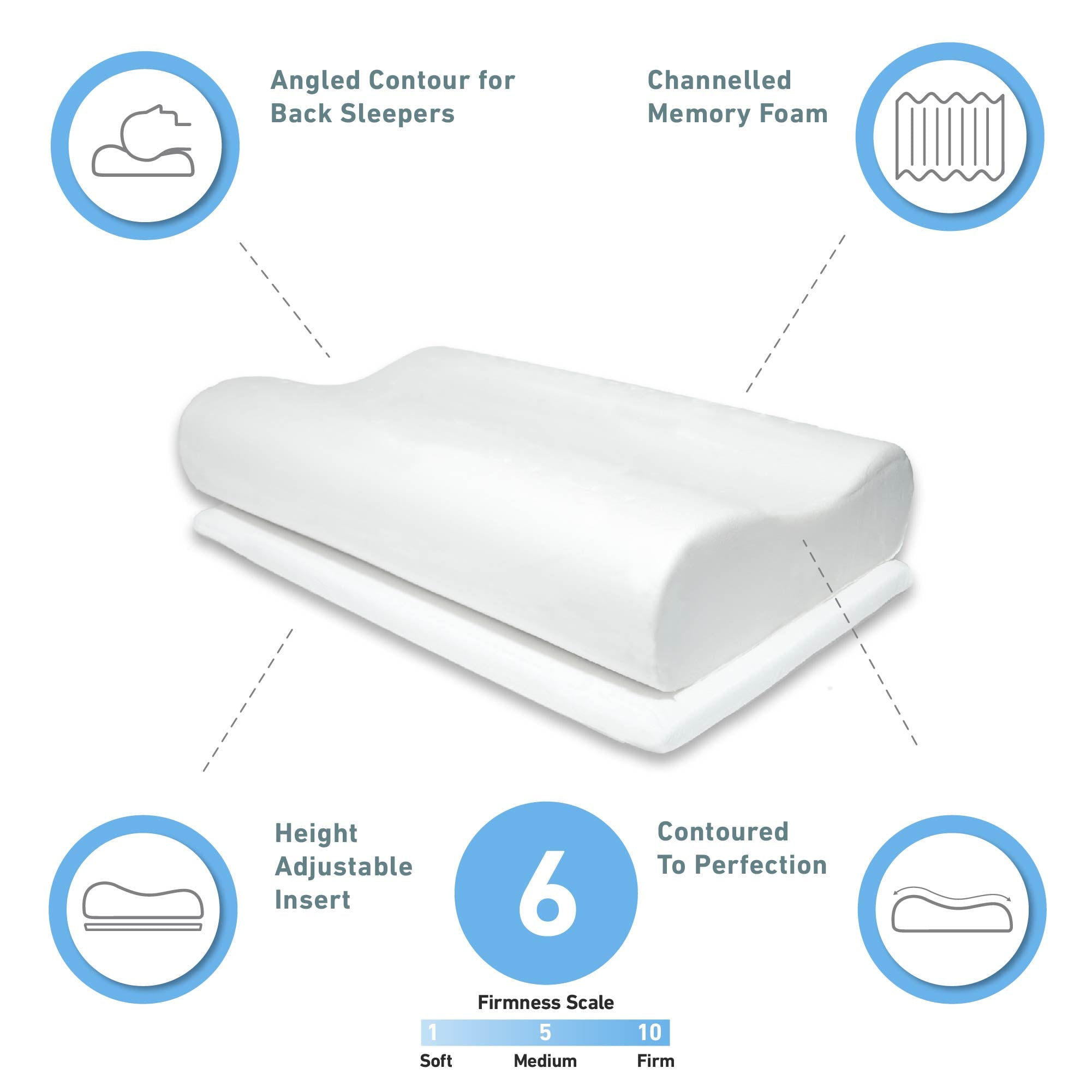 It's The Contour That Counts!

The contour in our Alleve Pillow has been designed to be gentle to moderate. If you haven't used a contour pillow before it shouldn't take long for you to get used to the Alleve Pillow. When purchasing any contour pillow it is important to understand that the contour shape should help and not hinder your sleep, posture or comfort.

The Alleve Pillow has passed the test of time and the ultimate test of being recommended by back care professionals. The Alleve Pillow is suitable for side and back sleepers.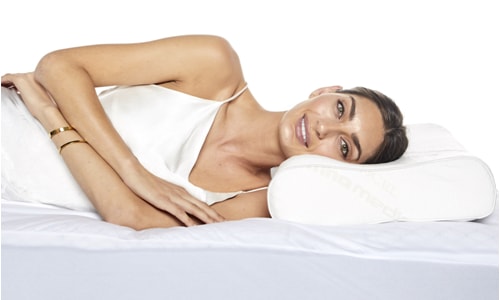 Pillows for Neck Pain, Headaches and Migraines
Pillows in themselves are not pain relief devices. This pillow is designed using leading edge materials such as high quality memory foam. This will help relieve pressure from one's sore spots and may relieve pain (Neck Pain, Headaches or Migraines) that is related to incorrect or bad sleep posture from sleeping on an inappropriate or inferior pillow. This pillow is designed to improve your sleep posture, so that you sleep in a neutrally aligned position.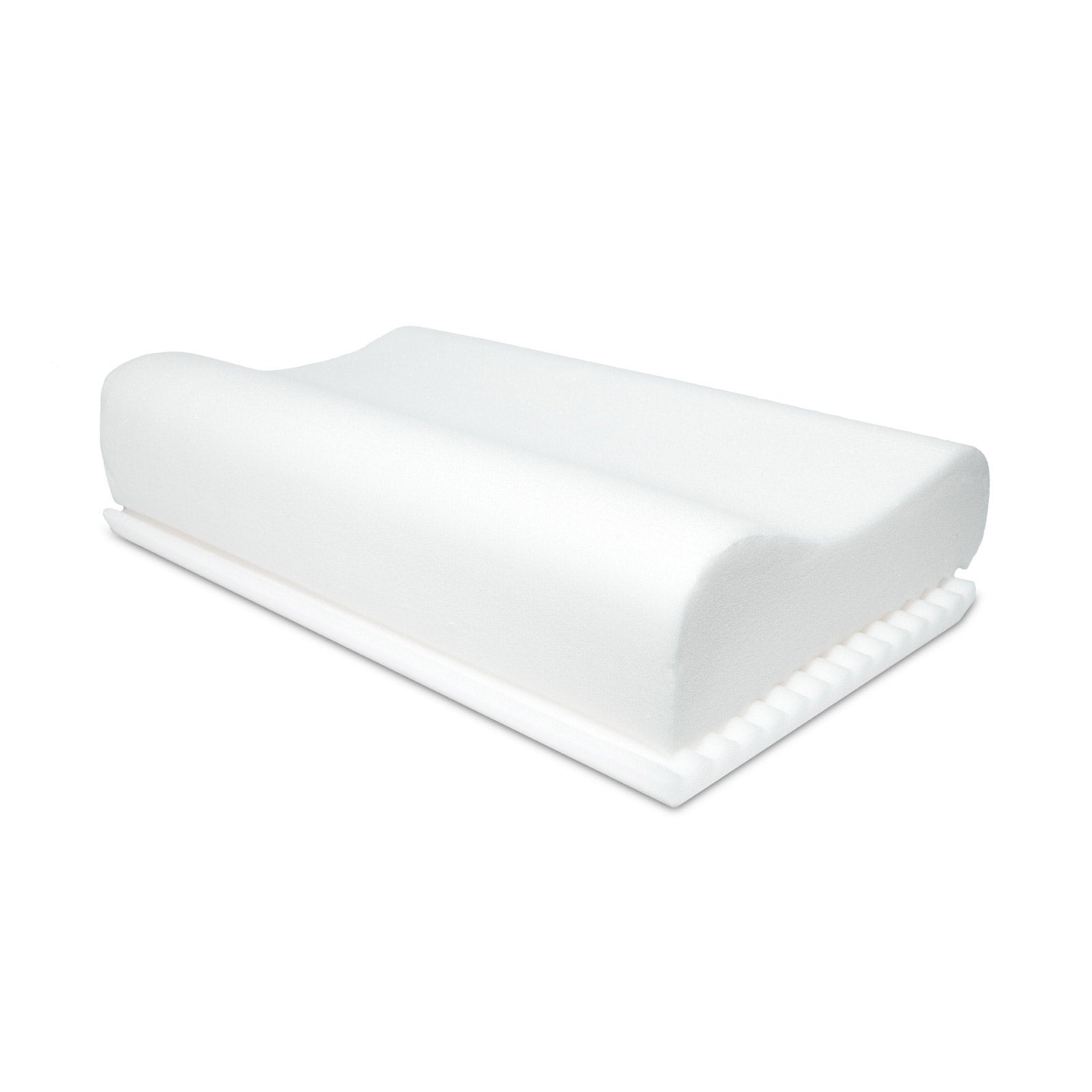 Note the shape of the contour/curve (Image) is gentle to moderate, designed to provide support and keep your spine neutrally aligned whilst asleep and moderate enough to ensure that you still experience the comfort of a traditional shaped pillow
The Flexi Pillow Alleve is made from premium quality 60KG/M3 memory foam helping provide you with a comforting, supportive sleep. Moderately contoured to help you achieve a healthy sleeping posture.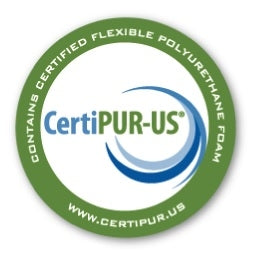 Each Flexi Pillow is made in compliance of stringent international standards which means that you sleep on a pillow that has been tested to meet these high international standards. When you buy any Flexi Pillow you can be confident that the foam inside meets the highest of standards for content, emissions, and durability, and has been analyzed by independent, accredited testing laboratories.
You can sleep on any Flexi Pillow with the comfort of knowing that the foam has been manufactured with both your health and the environment in mind.
Pillow Specifications
Measurements: 55cm Width x 40cm Depth
Height with Insert: High Side: 13cm Low Side: 11.5cm
Height without Insert: High Side: 11cm Low Side: 9.5cm
Made from: High Quality (60kg/m3) high quality form-cut memory foam. The pillow has a ridged surface to soften the sleeping surface and increase air circulation. 
Firmness: Medium 
Shape: Gently contoured, higher on one side and lower on the other. 
Ideal for: For people who need a highly supportive, medium to firm pillow, for back or side sleepers and all body frames. Because the foam is high density, it is very slow in release it contours beautifully to the curves of the neck, offering a soothing sleep. 
Cover: The high quality Tencel cover snugly encases the pillow, ensuring the unique contour shaping is maintained as well as creating a soft and cooler sleeping surface. Tencel is an amazing eco-friendly, natural fibre, made from wood pulp cellulose from trees managed for sustained harvest. It demonstrates the best moisture management and helps reduce bacterial growth.
Care: Avoid direct sunlight; sponge clean foam; warm hand-wash cover. Do not machine wash, dry-clean or tumble dry. We always recommend you use a quality pillow protector.
Warranty: 5 Years