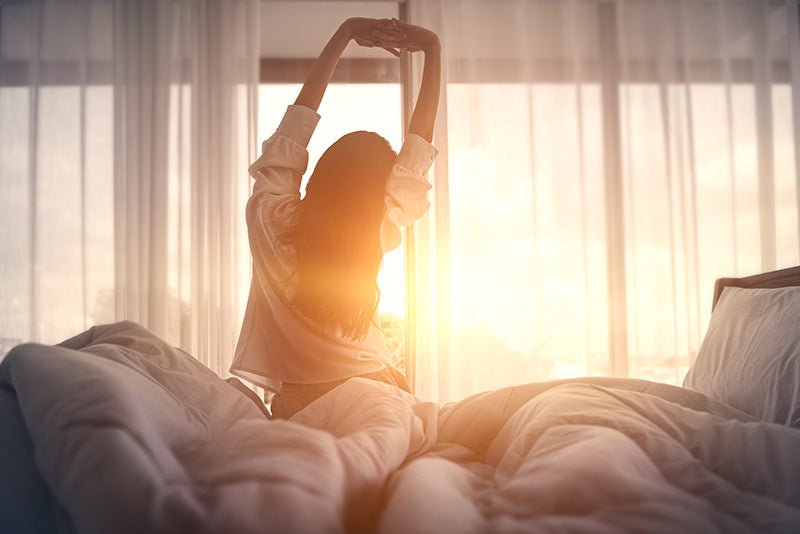 Mattress for back pain? Our mattresses offer outstanding comfort and pressure relief to provide a healthier, more comfortable night's sleep. Call now for expert advice on how to choose the best mattress for your back pain or buy online now.
Excellent Support, Great Pressure Relief
Ongoing back pain needs to be addressed by a health professional and managed accordingly. While sleeping on a good, supportive mattress will not cure the problems, sleeping on the wrong mattress is likely to exacerbate any existing back problems.
Our mattresses are designed to support your body correctly, and be comfortable to help relieve any pressure points, such as shoulders and hips. With the correct mattress that gives you neutral spinal alignment and ongoing appropriate care, your back issues may be alleviated or even eliminated over time.
For a mattress for back pain at the right price, visit Mattress & Pillow Science.
Mattress & Pillow Science. The healthy sleep specialists.
And remember that we stock a wide variety of mattresses for back pain, so you can be sure to find one for your individual taste and needs. Choose mattresses by size, whether that's single, double, queen or king.
You can also select the best mattress for your bad back by feel. Choose a firm or medium mattress to give your back the support it needs and to promote a comfortable night's sleep.
If material is an issue, we've got you covered. You'll find the best quality mattress for back pain in a variety of materials including memory foam, latex and gel. Each is designed to fit the contours of your body to gently support your spine and reduce your back pain.
FAQs
Which mattress is best for back pain in Australia?
If you're looking for a mattress that can deliver support where you need it and outstanding quality too, look no further than the Mattress & Pillow Science range of mattresses for back pain.
With a wide range of options in material, feel and size, you'll find the best mattress for back pain, whatever your requirements.
Because we work closely with back care and healthcare professionals, we can offer you the best, most targeted solutions to your back pain issues. We also pride ourselves on offering great customer service, value for money and quick and far-reaching delivery in Australia, making us your number one choice to achieve healthy, restorative sleep!
Is a firmer mattress better for your back?
The best bed for back pain offers the right amount of support to the sleeper. It will incorporate a mattress that is supportive to the spine and joints, rather than a mattress that is overly firm, which won't support your body evenly, or not firm enough, which could mean you sink into its surface and have difficulty moving position comfortably. This means that a medium or firm mattress is generally recommended to give your back the best support.
But the key to finding the right mattress is knowing which one is most comfortable and supportive for you. You can choose the degree of firmness depending on your personal preferences. Generally speaking, either a firm or medium mattress will support your spine for its entire length, keeping its natural curve and allowing you to sleep comfortably.
Is a pillow top mattress good for back pain?
A pillow top mattress has an extra layer of cushioning on top of the mattress itself. Unlike separate mattress toppers, the pillow top mattress does not move around, meaning you get consistent support for your back while you sleep.
Pillow top mattresses help relieve pressure along your spine and other major points of contact such as your shoulders and hips. This means that if your back is well supported as you sleep, you are less likely to suffer from back pain. The top layer material is also extremely soft, so you will enjoy a comfortable, luxurious feel as you slumber the night away.
Does a mattress help with back pain?
Yes, the right mattress can certainly help towards alleviating your back pain. It will not cure your back pain by itself, but if you choose a quality, supportive mattress, it will help to align and support your spine and minimise aches and pains. And bear in mind that the wrong type of mattress — one that is too soft to offer support or too rigid to feel comfortable — will most likely make any back pain worse.
If you suffer from back pain, it's always advisable to consult your doctor before making your decision.
What to consider when choosing a bed for back pain
The first thing you may want to consider when choosing the best bed for back pain is the feel of the mattress. As a rule of thumb, a firm or medium mattress is best to support your spine and minimise pain.
Material is also a consideration. You may wish to choose a memory foam mattress that moulds to the contours of your body, offering it targeted support. Gel mattresses offer similar benefits. The best mattress for lower back pain may be made of these types of flexible materials, giving support everywhere along your spine, including the base.
Your bed should also be sufficiently large to accommodate yourself and your sleeping partner so that you can move comfortably in the night.

Where can I buy a mattress for back pain?
If you're looking for mattresses for back pain, browse our collection, where you'll find endless options in one online location. Search by size, feel, material or brand to find the best quality mattress for back pain to offer support, comfort and value for money all in one.
The Mattress & Pillow Science collection has been created by working closely with healthcare professionals. This means our ultimate aim is to offer you the healthy, restful and supportive slumber you deserve, with satisfaction guaranteed for every purchase.
Filters
On sale
On sale
On sale
On sale
On sale
On sale
On sale
On sale