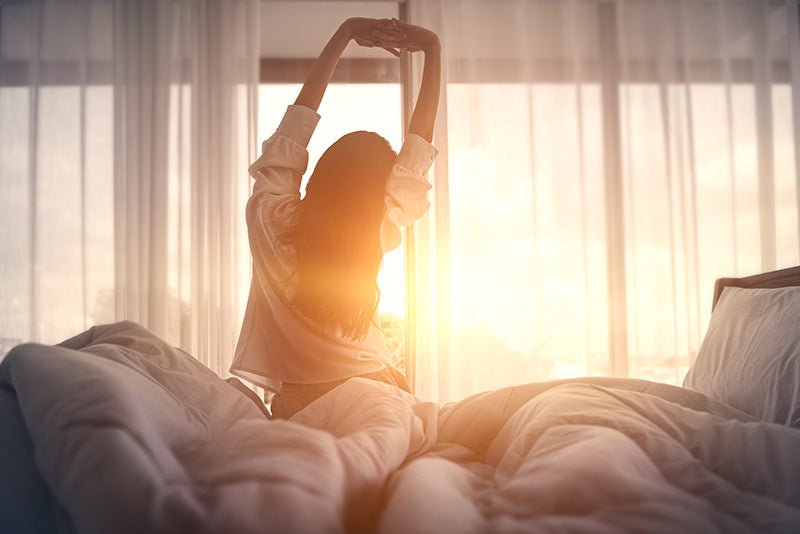 For a great night's sleep, choose from our range of quality queen mattresses online, perfect for all the family. Designed to be more generous than a double mattress but more compact than a king, a queen size mattress is an ideal choice for singles, couples and even children!
We proudly stock some of the top brands of queen mattresses, including SleepMaker, Comfort Sleep and AH Beard. And our years of experience working alongside health care professionals combined with our product knowledge means we can offer you the best quality queen mattresses as well as therapedic bedding.
Whatever you need, you can search our complete collection of mattresses by size, feel, type or requirement and know that you will be choosing a quality product, handpicked by us for the best night's sleep.
FAQs
What is a queen size mattress?
A queen size mattress is bigger than a double mattress but smaller than a king size one, typically measuring 153 cm in width and 203 cm in length. Queen mattresses fit into most size bedrooms, which makes them a popular choice for either a smaller master or double bedroom or a spare room for guests.
Who is a queen size mattress suitable for?
Queen mattresses are a great choice for couples who find a double bed a little bit too small for their needs and like to stretch out. They're also good for bigger or taller people who need extra space at night or for anyone who is a restless sleeper and moves around as they slumber.
Queen size mattresses also work well for families. If you have a small child who has a tendency to wake at night and seek comfort in your bed, you'll find there's plenty of space for them to curl up alongside you.
What is the best queen mattress?
If you're looking for the best quality queen mattress, there are a number of features to look out for. The first thing to consider is whether you have any special requirements that could dictate what sort of mattress you need. For example, a high quality queen mattress made with memory foam will support your body and keep your spine correctly aligned to relieve the pressure that can cause back pain.
The main deciding factor will be quality. At Mattress & Pillow Science, we have developed a range of quality mattresses, many of which have been designed by us with our expert knowledge and experience. This means that when you select a queen bed mattress from our collection, you can be assured you are making a great choice!
How do I choose a good queen mattress?
A good quality queen mattress will be perfectly matched with your individual requirements. You can choose the best queen mattress for you, firstly, by thinking about your body type .If you are a little heavier, you may get more benefit from a medium or firm mattress.
Now let's think about the different types of queen size mattresses available. Memory foam mattresses mould to your body shape, giving you support exactly where you need it. This is great for people who suffer from back pain. A pocket spring queen mattress, which has individually wrapped coils, can offer excellent levels of support and reduced partner disturbance. These types of mattress tend to be firmer than foam mattresses, and are often more affordable.
And if you find that you get too hot at night, why not opt for a gel-infused mattress? It is designed to reduce overheating and give you support for the best night's sleep.
How much is a queen size mattress?
The good news is that we stock queen mattresses to suit all budgets. Our collection is priced from a few hundred dollars for those on a budget to around $3,000 for anyone looking to invest in a durable queen mattress to last them many years.
And don't forget you can also grab a bargain in our queen mattress sale. It's a great way to invest in a quality and comfortable mattress for night after night of refreshing sleep.

Is a queen bed too small for a couple?

A queen mattress comes as a standard size, and is good for both single and couple use. While a king size mattress may offer more space for a couple, a common limitation is the physical size of a room which will mean that a queen mattress is a much more suitable option. A queen is one of more the common options chosen for couples.
How much should I pay for a good queen mattress?
It's reassuring to know that you can purchase a good quality queen size mattress whatever your budget as long as you know where to look. Browse our collection of queen mattresses online, with prices ranging from the affordable upwards for a queen mattress to suit your purse and lifestyle.
Is a queen bed too small for a couple?
A queen bed is actually more generous than a standard double bed, making it perfect for most couples who need a little extra space but don't have a big enough bedroom for a king size bed.
Filters
On sale
On sale
On sale
On sale
On sale
On sale
On sale
On sale
On sale
On sale
On sale