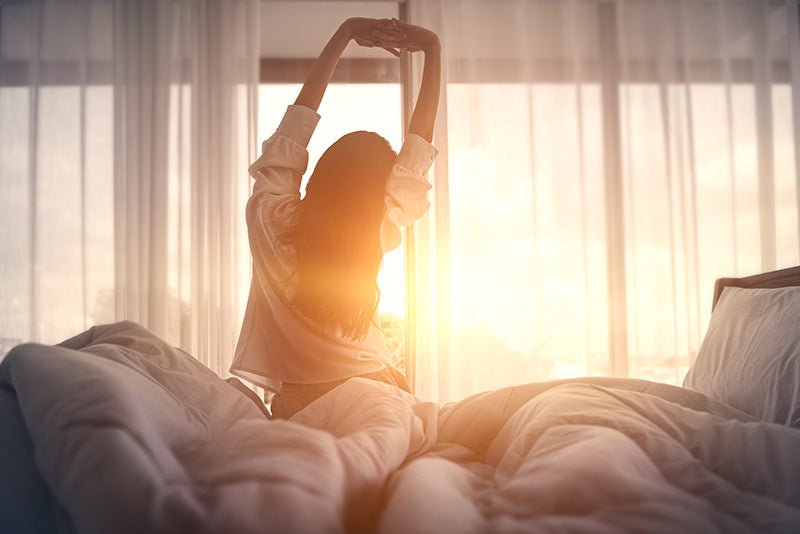 Are you struggling to fall asleep due to the heat? Cool down on hot summer nights with a cool pillow. Purpose-designed for cooling, comfort and exceptional neck support, uncomfortable and sweaty nights will soon be a thing of the past when you invest in the right cooling pillow. 
Two cool options — Ventilated and Gel Pillows
Do hot summer nights keep you awake? Relief is never far with our fantastic new cooling pillow range, designed to keep you cool and rested for a better, healthier night's sleep.
Gel Pillows
Our best selling gel pillows are made from the highest quality visco-elastic memory foam, providing outstanding comfort and heat relief with a built-in cool gel pad. Our Flexi-Pillow Gel Contour is contoured in shape for excellent neck support, while our Flexi Pillow Gel Classic is shaped like a traditional pillow for those who prefer to sleep without a contour. Both are adjustable in height to suit all body shapes and sizes and have a bamboo-rich cover with anti-microbial properties — preventing the build-up of bacteria, which can cause difficulties for people who have asthma, lung problems, allergies and even snoring. Our Technogel Pixel Cool Gel Pillows are another fantastic option using innovative sleep technology. The adaptive gel provides support for those looking for pressure relief and cooling benefits.
Ventilated Pillows
Our memory foam Ventilated Pillows offer cool relief and superb value for money. Available in a soft to medium feel, our ventilated Pillows come in a contoured, supportive shape to cradle the neck as well as a classic pillow shape. Tiny pinholes in the memory foam and ventilated sides allow air to circulate better while you sleep, providing a better, healthier sleeping environment to leave you feeling rested and refreshed the next day.
FAQs
Are cooling pillows good for you?
Yes. A full night of quality sleep is essential for many aspects of our well-being. But if you struggle to sleep because you're overheating in bed, then reach for a cool pillow to help regulate your temperature and soothe you to sleep.
A cool pillow will help reduce that hot, sweaty feeling that stops you from getting the full night's sleep you deserve — helping you fall into a more restful sleep. An undisturbed sleep means you'll wake up feeling refreshed and recharged and you'll no longer feel groggy first thing in the morning or feel the need for a daytime nap.
How do cooling pillows work?
How your cooling pillow works will depend on which type you have opted for. Gel cool pillows contain gel-infused memory foam, which enhances airflow and disperses heat. They are cool to the touch, so when you lay your head on them, you get a cooling effect that can bring down your body temperature. 
On the other hand, our ventilated pillows are made of memory foam with lots of tiny holes. Along with the ventilated sides, this design allows air to circulate freely, keeping you cool all night long.
How long do cooling pillows last?
The cooling effect of your pillow will last long enough for you to fall asleep. In terms of durability, with the right care, your cold pillow can last several years — providing you night after night of undisturbed sleep.
What are cooling pillows good for?
The primary purpose of cooling pillows is to draw heat away from the body and help provide a comfortable night's sleep. They are useful for anyone who has a high body temperature and finds it hard to get comfy in bed or those who suffer from night sweats or have a fever. 
If you're looking for pillows for neck pain, then it's good to know that Mattress & Pillow Science cool pillows are made from hypoallergenic memory foam. The foam adjusts to the unique contours of your body, offering support to your back and neck and enhancing the quality of your sleep.
They're also helpful if you're searching for pillows for migraines and headaches, especially if they are triggered by overheating.
Why choose a cooling pillow?
A cooling pillow is a simple and affordable solution to helping you get a comfortable night's sleep. The cooling properties will help you to drift off to sleep quickly and allow air to circulate freely while you slumber, keeping you comfortable all night long. They are supportive too — helping your body to find just the right position for a deep and refreshing night's sleep!
What to consider when choosing a cooling pillow?
Mattress & Pillow Science Cool Pillows are available in two varieties. With an in-built integral cool gel pad, our memory foam Gel Pillows offer an instantly cooling effect as you lay down your head, helping you to drift off to sleep easily.
Our Ventilated pillows are also made from memory foam embedded with tiny holes and with ventilated sides to enhance air circulation. They are perfect if you like air to circulate freely as you sleep.
Both types of cool pillows are available in a contoured shape for extra neck support or as a classic pillow, if that's your preference.
If you like the support that memory foam offers, you can shop our memory foam collection online. You should also consider using your cold pillow with a cooling pillowcase, made of hypoallergenic and breathable fabric such as bamboo or cotton.
Filters
Save $50.00
Save $50.00
Sold out
Save $13.90
On sale
Save $40.00
Save $50.00
Save $50.00
Sold out
Save $40.00