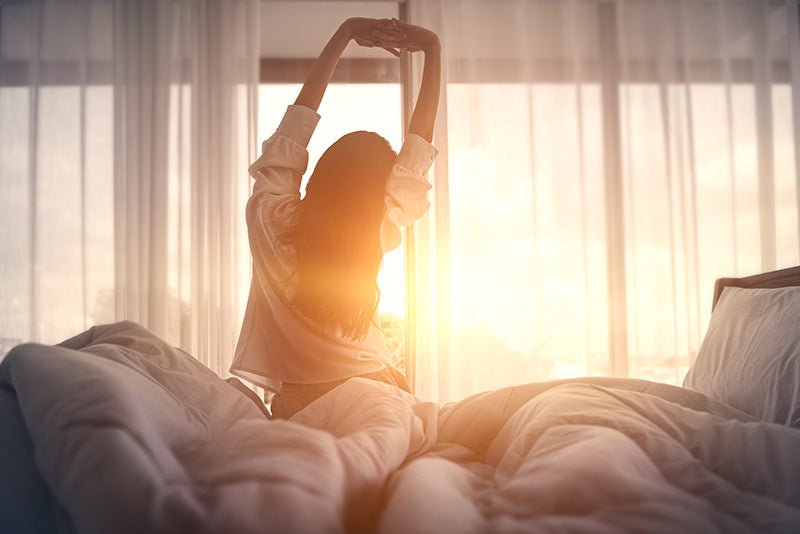 As soon as you've made the brilliant choice of a spacious, comfortable queen size bed, you'll want to find the perfect queen size quilts to complement it. You'll find all types of queen quilts in our range, suitable for both kids and adults.
Quality and comfort are guaranteed in our collection of queen quilts from top brands including Bambi, Downia, Kelly & Windsor and MiniJumbuk.
Whatever you're looking for, you can easily search our collection of queen quilts by purpose, season or material.
While you're here, don't forget to check out our quilt protectors to keep your quilt in top condition. You can also search our quilts by size, including single, king single, double, king and super king, for all your other bedding needs.
FAQs
What's the best quilt for a queen bed?
Queen quilts are specially designed to fit perfectly on your queen bed.
You can buy queen quilts in a variety of togs (a measurement of how warm a quilt is), according to whether you're in spring, summer, autumn or winter. Or an all season quilt will ensure you are sleeping at the right temperature all year round.
What is the best quilt for allergy sufferers?
If you're unfortunate enough to suffer from allergies or asthma, rest assured that we stock a range of allergy sensitive quilts. Available in a variety of materials, our hypoallergenic queen quilts are perfect for a comfortable night's sleep.
A low allergy filling like wool is perfect if you are sensitive to other fibres. It's also a breathable material, keeping your body at just the right temperature for a comfortable night's sleep.
It's hard to beat cotton as a filling. It's naturally hypoallergenic and allows your skin to breathe as you sleep.
Bamboo is a great alternative filling for queen quilts. As well as being soft, natural and hypoallergenic, it's the preferred choice for anyone who cares about the planet as it's a sustainable and eco-friendly material.
Even human-made fibres like polyester and microfibre can also be suitable for allergy sufferers. They also make a great practical choice as they can be cleaned easily.
Many of our queen quilts are also finished with an antibacterial substance, stopping the growth of bacteria, fungi and dust mites that can irritate anyone with allergies or asthma.
What other materials are available for quilts?
Our choice of materials for queen quilts is not limited to the hypoallergenic ones listed above. We stock a range of feather queen quilts, offering you an incredible level of softness and comfort. One of the main features of feather-filled quilts is their ability to trap air, keeping you toasty warm in bed.
Tencel is another great natural filling choice for a queen quilt that's environmentally friendly, soft and breathable. It's hard-wearing, too, and its natural properties help to promote a restful night's sleep.
What size is a full queen quilt?
Full size queen quilts measure 210 cm x 210 cm, making them a perfect fit for your queen size bed. They also make a fantastic choice for a single or double bed, providing extra coverage and a super cosy feel.
Are quilts warm in winter?
Yes, quilts most definitely are warm in winter! No matter what their filling material, all our queen quilts offer breathable, temperature-regulating qualities. This means they keep you cool in summer and warm in winter.
You can also buy special winter weight quilts with higher tog ratings, designed to offer you extra warmth and snugness as the temperatures plummet.
How much bigger is a king quilt than a queen?
A standard king quilt measures 245 cm x 210 cm, while a queen quilt is 210 cm x 210 cm, making king quilts slightly wider than queens. If you have a queen-sized bed, you can either opt for queen quilts or try a king size quilt if you like extra coverage in bed.
Are quilts warmer than blankets?
A quilt on its own will offer as much warmth and cosiness as several blankets used together. This is because the filling used in quilts forms pockets, keeping the air warm and ensuring you are snug in bed in much the same way that several layers of blankets would do.
The advantage of a quilt is that you only need this single item to keep you at the right temperature. Quilts also tend to feel lighter than a pile of blankets, offering you a more comfortable night's sleep.
Which is warmer – duvet or quilt?
In most contexts, the terms "duvet" and "quilt" can be used interchangeably and describe much the same thing. Both terms are used to describe an item of bedding filled with material, such as microfibre, cotton, feathers or bamboo, that is soft, lightweight and traps air in its pockets.
This means that both duvets and quilts have the ability to keep you warm while still allowing your skin to breathe. For extra warmth, browse our autumn and winter weight quilts.
How do I keep my queen-sized quilt in good condition?
You can protect your quilt with a queen quilt protector, which can be washed as often as needed.
The quilt itself will also need regular shaking out and airing, as well as occasional cleaning. While quilts may be professionally cleaned, many are suitable for machine washing and are easy to maintain this way.
Filters
On sale
On sale
Sold out
On sale
Sold out
On sale
On sale
On sale
Sold out
Sold out
On sale
On sale
On sale
Sold out
On sale
Sold out
On sale
On sale
On sale
On sale
Sold out
Sold out
Sold out
On sale