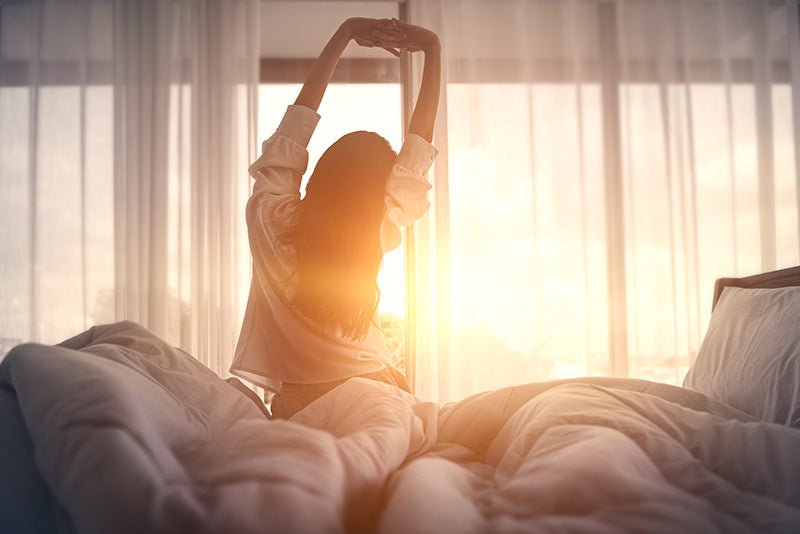 Shop our great range of double quilts from some of the best local and international brands in bedding.
Quick
Australia-Wide delivery
L
ow Flat Rate S
hipping
 or FREE over $150. Buy online today!
Looking for the perfect double quilt? 
Whether it's a breathable bamboo quilt or a luxuriously soft feather and down quilt, here at Mattress and Pillow Science we offer a great range of double quilts for your needs.
We offer double quilts from some of the best names in bedding, from your favourite homegrown Australian brands like Bambi and Kelly & Windsor, to respected international suppliers like Alastairs.
Our double quilts come in a variety of fills and lofts for all seasons – you'll be sure to find a double quilt in our catalogue to suit you.
At Mattress and Pillow Science you're sure to find what you want in our online catalogue.  Don't delay - speak to one of our healthy sleep specialists today for expert advice.
Call now or buy online and experience the Mattress & Pillow Science difference for yourself.
Finding the right double bed mattress can be a time-consuming exercise as there are many important things to consider before committing to the investment. However once you've made your purchase, that's when the fun can really begin as you go about choosing a double quilt that will put the finishing touches on your new bed set up.
Whether you're looking for double quilts to keep you warm in winter, cool in summer, pleasant during the in-between months; or you're keen on keeping the allergies at bay, there are countless options to suit your needs. At Mattress & Pillow Science we're all about getting you the best night's sleep and nothing says comfort quite like a cushy quilt.
FAQs
Which double quilt filling is best?
Since 2005 we have been working with experts in the health industry to make sure we provide our customers with well-researched and relevant products that will ensure quality and restful sleep. When deciding which quilt filling will be best for you we stock a number of different materials to cater to our customers needs.
We provide a range of double quilts made from:
-Wool
-Down 
-Feathers
-Bamboo
-Tencel
-Microfibres
-Cotton
It's important that we're able to provide customers with product options sourced from some of the best quilt manufacturers - we stock quality brands like Bambi, MiniJumbuk, Downia, Kelly & Windsor, and many more.
The best double bed quilt filling for you will come down to personal preference, health concerns and season.
What is the warmest double quilt?
As the winter months roll around, there's nothing quite like hunkering down in a cosy quilt to warm you up. Traditionally during the frosty part of the year, people will often gravitate towards a quilt made with heavy material filling like wool, down or feather as these give that snuggly feeling whilst also helping to regulate your body temperature. If you find that you're quite a 'warm' sleeper throughout the year then a quilt made with breathable materials like Tencel, bamboo or cotton will be great choices to keep you comfortable during winter.
What is the coolest double quilt filling?
In Australia it can be hard to get a good night's sleep especially if you live in some of the more tropical parts of the country. Finding a lightweight double bed quilt that provides comfort without leaving you overheated can be achieved if you know which material to look for. At Mattress & Pillow Science we suggest opting for a cotton or Alpaca quilt that will have you waking up refreshed, even after the most humid of nights.
What double quilts are best for all seasons?
Finding a double bed quilt that will provide you with a comfortable snooze through all seasons of the year is a cost-effective way to purchase bedding. We suggest opting for quilts filled with materials like Tencel, wool, down or bamboo that will absorb moisture in the warmer months and keep you cosy in the cooler months.
What is the best double quilt for allergies?
Suffering through an uncomfortable and restless sleep is one of the unfortunate by-products of living with allergies. Finding a double bed quilt in a material that won't set off your allergies can be found in our range of sensitive quilts guaranteed to solve your sleep issues.
Quilts filled with breathable hypoallergenic materials like wool and cotton are great options as they keep your body at the right temperature without causing your skin or asthma to react.
If you're looking for materials that are easy to clean, both polyester and microfibre are suitable options for allergy sufferers and bamboo is a great alternative for those wanting a more environmentally friendly choice.
How big is a double bed quilt?
A double quilt size is 180cm width and 210cm which allows for plenty of room to cover the full surface area of a double bed mattress with ease. If you're sharing a bed with a significant other and often find yourselves in the nightly tossle of who gets more quilt coverage you can always size up!
Do you need a quilt protector?
To keep your new double quilt in pristine condition we suggest purchasing a quilt protector. In order to fend off any nasties like mould, bacteria and dust mites, a quilt protector is a great way to keep your double bed quilt clean and in good stead for longevity.
How much do double quilts cost?
When looking to purchase double bed quilts there are a few variables that will determine the final cost. Even though things like material and brand will change the price tag of certain quilts, at Mattress & Pillow Science we have ensured that all products we stock are top-quality. The Bambi Sensitiva Double Quilts start at $75 and the Downia white goose down double quilt can be purchased for $699, with a range of options in between.
What is the best double quilt to buy in Australia?
If you're searching for a double bed quilt online or if you want to browse in-store, Mattress & Pillow Science have an incredible range of quilts ready to bring you comfy, healthy and restful sleep. In addition to finding the perfect double bed quilt we have a wide variety of pillows, linen, toppers, bed bases, mattress protectors and mattresses for you to choose from to complete your new bedding set up. If you'd like to head to our store we are based in Melbourne or if you'd like to make a purchase online our helpful consultants can advise remotely and will arrange for delivery to be made anywhere in Australia for all orders over $150.
Filters
On sale
On sale
Sold out
On sale
Sold out
On sale
On sale
On sale
Sold out
Sold out
On sale
On sale
On sale
On sale
Sold out
On sale
On sale
On sale
Sold out
Sold out
Sold out
On sale
On sale