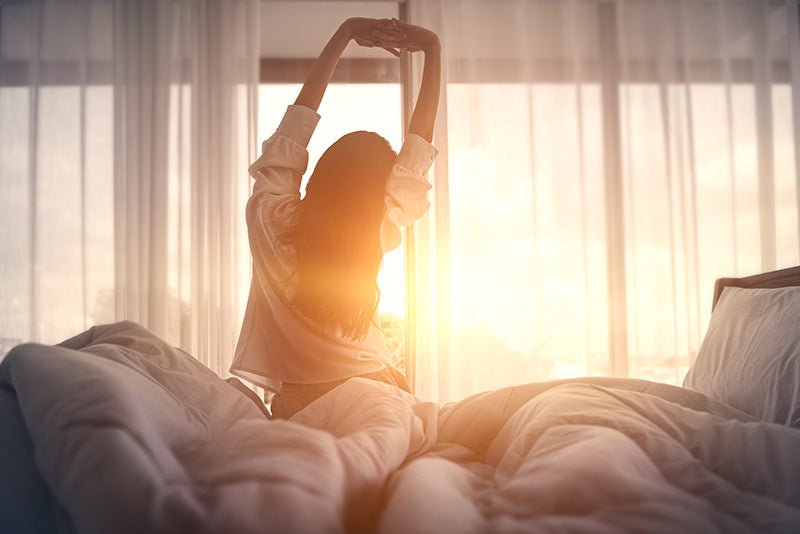 When you're looking for the ultimate in comfort and luxury, feather pillows are the ideal choice. Soft and supportive, they mould to the shape of your head and neck to provide you with a calm, comfortable, peaceful night's sleep.
At Mattress & Pillow Science, we work with healthcare professionals and orthopaedic specialists to bring you products that provide you with all the comfort and support you need. Every product in our feather pillow range has been carefully selected, guaranteeing you the very highest quality.
Whether you choose duck feather pillows, goose feather pillows or our luxurious down feather pillows, you will enjoy comfortable, refreshing sleep night after night! 
Feather pillows to suit all requirements
Your pillows should be chosen to suit your individual needs. At Mattress & Pillow Science, we understand that every customer is unique. This is why our collection of feather pillows and down pillows has been carefully put together, taking into account the widest possible range of needs and preferences.
With soft, medium and firm pillows available, it's easy for you to find a feather pillow within our range that offers the levels of support you need. Even if you require an orthopaedic pillow, we can provide what you're looking for.
We also realise that your pillow needs are likely to change at different times in your life. This is why we offer kids' pillows, pillows designed to keep you cool and those recommended for use in pregnancy. We can even provide you with pillows to help combat particular problems such as headaches and migraines or snoring.
Whatever it takes to give you a better night's sleep, we aim to provide a feather pillow to suit your needs.
The Mattress & Pillow Science difference
Since 2005, we have been working with top healthcare professionals, physiotherapists, osteopaths, chiropractors and many other specialists in back health to create products that offer the ultimate in comfort and support. We only sell duck feather and goose feather pillows that are of the very highest quality and that will be kind to your neck, back and shoulders.
We only supply trusted brands that have been recommended by health professionals. Our feather pillow range includes pillows by respected names such as: 
We also won't be beaten on price! It is our belief that a great night's sleep should be within everyone's budget range. We give you an unbeatable night's sleep at a price you'll love, guaranteed.
Get that hotel feel every night with feather pillows from Mattress & Pillow Science and enjoy bedtime more than ever before!
FAQs
Are feather pillows good for you?
Yes, they are. Feather pillows offer a truly comfortable sleeping experience, making you feel almost weightless as you drift off to sleep. They are easy to configure in the most comfortable shape for you, and they provide increased support for your neck, shoulders and upper back. Compared to synthetic pillows, feather pillows definitely have the advantage – and they feel much more luxurious, too.
At Mattress & Pillow Science, we cater for all sleeping styles. You can find appropriate pillows for you whether you prefer to sleep on your tummy, side or back. It makes a genuine difference to have a pillow that has been designed for your preferred sleeping position. 
What is the best feather pillow?
This is all down to your personal preference. Some people prefer to sleep in a higher position, while others favour a medium-height or low pillow. The best feather pillow is the one that feels most comfortable to you. Luckily, our range contains numerous options, including adjustable pillows for those who want a choice of sleeping positions.
When it comes to material, some people prefer goose feather pillows over a duck feather pillow. This is because goose feathers are larger, so the pillow can feel softer. However, again, this is a matter of personal taste. There are many people who prefer duck feather pillows, and we cater for all tastes.
What is the difference between feather and down pillows?
The difference is the type of feathers they are made from. Down is the soft fluff that occurs on the chest of the duck or goose. It is extremely soft and comfortable, and a goose down pillow is often regarded as the most luxurious pillow you can buy.
Feather pillows are made from feathers taken from the back of the goose or duck. These feathers are longer and slightly coarser. This means feather pillows can have a firmer feel than down pillows. They also tend to require plumping up more regularly to keep their shape.
Most feather pillows also contain some down to add softness and comfort. You can explore our range of down feather pillows to find exactly what you need.
How long can you keep a feather pillow?
If you take good care of your feather pillows, they can last between 10 and 20 years. Try not to get them wet or expose them to oily substances such as face creams. Always use pillow protectors and pillow cases to keep your pillows cleaner. If your pillows really need washing, take them to the dry cleaner's. 
You can also extend the life of your feather pillows by plumping them up regularly and storing them properly. Don't compress your travel pillow to store it when you're not using it – this can break down the feathers.
Are feather pillows cruel?
In general, feathers and down are by-products of the poultry industry. Almost 100 per cent of feathers and down used in pillows around the world are harvested after the bird is dead. There have been some welfare concerns about live plucking raised in other countries, but the practice is illegal in Australia.
Obviously, however, feather pillows are not suitable for vegans as they do contain real bird feathers.
Shop feather and down pillows in Australia
Take a look at our feather pillow range and place your order today! We offer fast delivery Australia-wide. And if you spend over $150, you will receive FREE shipping.
Filters
On sale
Save $50.95
Save $2.00
Sold out