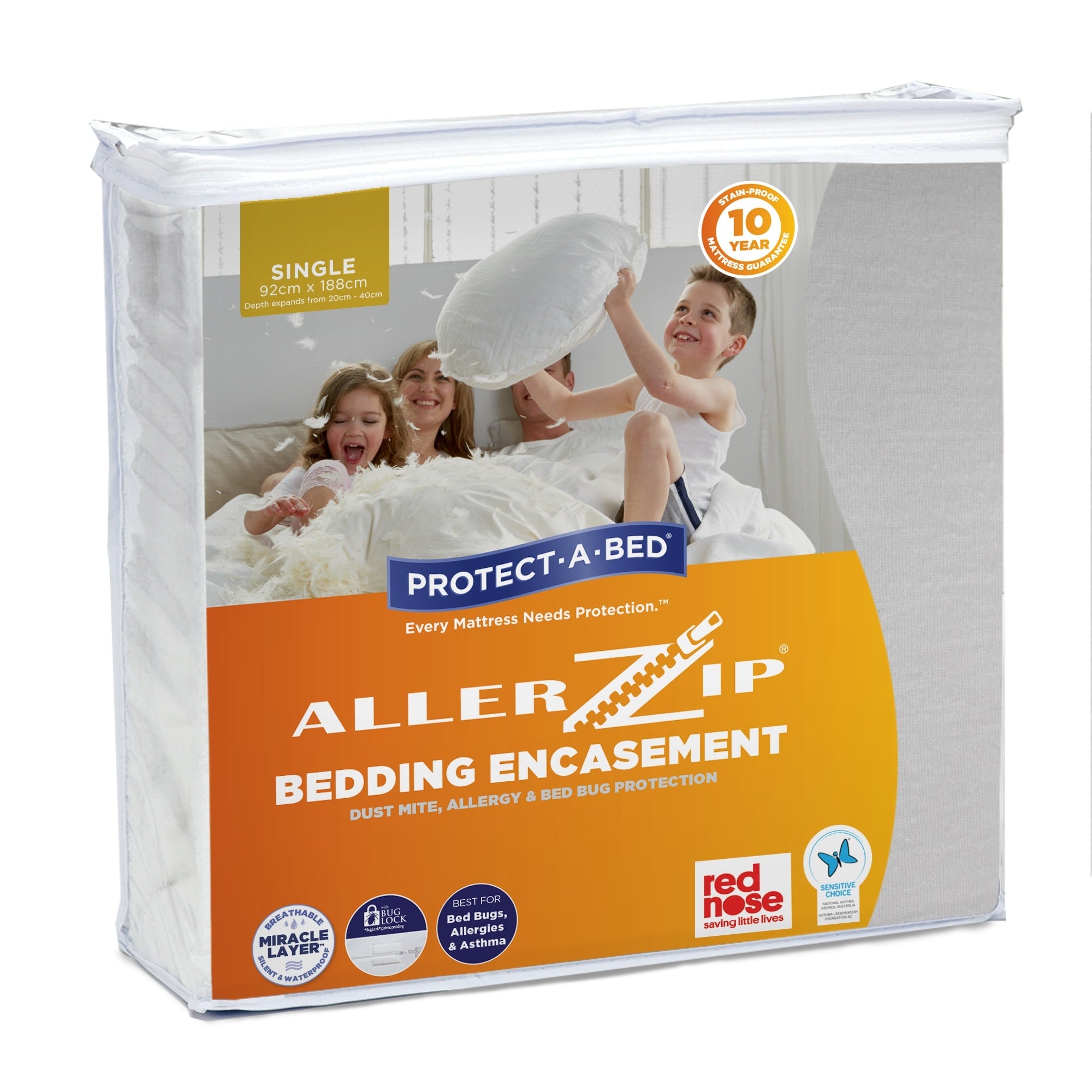 Protect-A-Bed Allerzip Mattress Protector
---
Spills, stains, bacteria, dust mites, you name it, the Protect-A-Bed Allerzip Mattress Protector fights it, all while providing a soft and comfortable sleep.
Incredible waterproofing
This product includes Protect-A-Bed's unique Miracle Layer to provide an unparalleled level of waterproofing. It will protect your mattress from spills and stains by preventing any liquid from passing through.
Hypoallergenic
It is extremely breathable, allowing air to pass through it which helps maintain the temperature in all seasons. It is also silent and flexible ensuring the feel of your mattress and bedding is not altered giving you a comfortable night's sleep.
All these properties work together to prevent and protect from dust mites, mould, bacteria and allergens.
It is fully encased so will cover all six sides of your bed and has a dust-proof flap and tamper proof SecureSeal® making the mattress bed bug entry proof, and escape proof, whilst also ensuring allergens cannot become airborne.
This has helped it receive the Sensitive Choice blue butterfly symbol meaning it receives the National Asthma Council Australia's seal of approval for asthma and allergy sufferers.
Practical
This level of protection does not come at the expense of practicality either. It is easy to remove and can be regularly washed with other bedding.
This protector is available with a standard depth skirt of 20-40cm. or an extra depth skirt of 40-50cm for double, queen and king sizes.
It also has an incredible 10 year stain proof mattress guarantee from Protect-A-Bed.
Made From: 100% Smooth polyester + Waterproof Miracle Layer Membrane®
Ideal for: Those with allergies and asthma.
Children, elderly, and dealing with incontinence, high level of protection for everyday use.
Sizes: Single 92cm x 188cm
Long Single 92cm x 204cm
King Single 107cm x 204cm
Double 138cm x 198cm
Queen 152cm x 204cm
King 183cm x 204cm
Care: Machine wash.
Tumble dry.