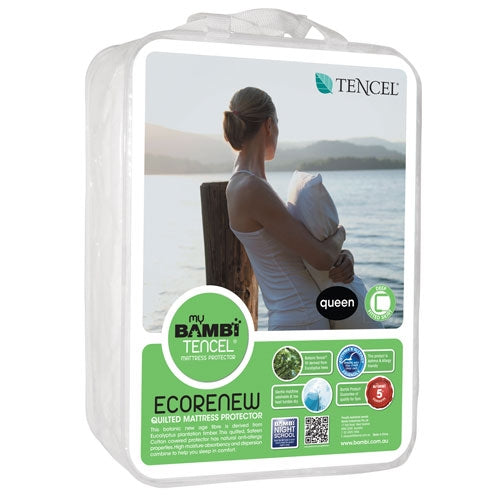 Bambi Ecorenew Tencel Mattress Protector
---
Even the most difficult of sleepers will find the soft touch of the Bambi Ecorenew Tencel Mattress Protector comfortable leading to a sound slumber.
High quality material
Your sleep and bed will be in safe hands with this protector.
The key ingredient in this is the protectors Tencel fill which is far smoother than other natural fibres like cotton and wool.
Made of 100% botanical fibres, it originates from sustainably harvested eucalyptus trees. It is specially developed to maintain the most desirable properties of both
manmade and natural fibres. It is super soft, silky smooth and unbelievable comfy as well as ecofriendly.
Excellent protection
Tencel is super absorbent so it is excellent at drawing away moisture from you as you sleep; this will leave you dry and comfortable. This also gives excellent protection to your mattress as moisture is the major threat when it comes to mattress deterioration.
Tencel is also naturally hypoallergenic, so you won't have to worry about dust mites, mould or other nasty bacteria irritating you.
This protector also has a 45 centimeter skirt which can be stretched up to 55 centimeters it will fit mattresses of varying depths.
On top of all this, Bambi offers a five year product guarantee with this protector so you can rely on this product.
Made from: Tencel
Sizes: Single 92 x 188 cm
Long Single 92cm x 203 cm
King Single 107cm x 203 cm
Ideal for: Sensitive sleepers, Children and those focused on a healthy and stain-free mattress
Care: Machine washable
Tumble Dry